Wirefly.com Starts Black Friday Deals Early – Over 50 Phones for Under $1
Summary: Wirefly is starting its Black Friday sale early this year with more than 50 of the latest cell phones available for under $1 across all major carriers on Wirefly.com. Sale begins at 12:01 a.m. Thanksgiving morning and extends through Cyber Monday.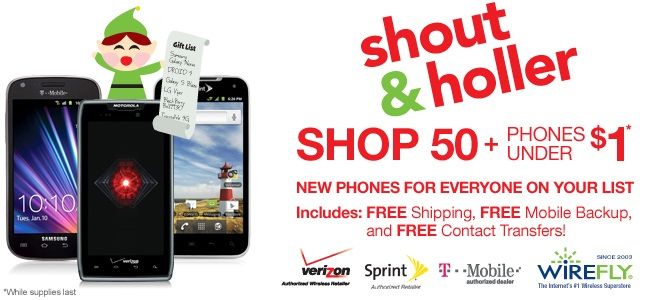 Reston, VA – November 20, 2012 – Wirefly (www.wirefly.com), the Internet's leading authorized retailer for the latest cell phone and smartphones, is bringing tidings of good cheer and greater savings to consumers this holiday shopping season. Beginning 12:01 a.m. Thanksgiving morning (November 22) through Cyber Monday (November 26), Wirefly will have over 50 cell phones and smartphones on sale for under $1 (with a two-year agreement). As always, Wirefly's incredible pricing never relies on rebates and every order comes with fast, free FedEx shipping and returns.
With hundreds of phones to choose from and over 50 for under a dollar, Wirefly customers are guaranteed to find the perfect phone to best fit their needs - and at an unbeatable price. The Black Friday sale will include the latest, most in-demand phones on the market from top U.S. carriers, including popular Android, Windows Phone 8 and BlackBerry smartphones.
"We think consumers are tired of retailers who hold door buster sales centered around just a few products with very little stock available," said Andy Zeinfeld, CEO of Simplexity, parent company of Wirefly.com. "At Wirefly our shelves are well stocked with over 50 fabulous devices priced ready to move."
Wirefly's sales event is special because it rewards not just customers switching to a new carrier, but also those who simply want to upgrade to a new phone and keep their existing plan or provider. Other retailers feature Black Friday deals that are only applicable to people who are willing to ditch their current wireless provider for a new one.
Examples of the smartphones available during Wirefly's Black Friday Sale for less than $1 include:
Wirefly is unlocking its virtual doors early and starting its Black Friday Sale at 12:01 a.m. EST on Thanksgiving Day, many hours before retail stores open for business. For those who aren't able to shop on Black Friday, Wirefly's sale extends through Cyber Monday to give everyone ample time to take advantage of these great phone deals. Plus, by shopping at Wirefly.com customers can avoid the long lines and stores over-crowded with overzealous bargain hunters by shopping from the comfort of their home or office.
"Last year, we started to see a significant increase in traffic to our site as early as Thanksgiving morning, which we attributed to our customers preparing to take advantage of our Black Friday deals," added Zeinfeld. "So we decided to start our sale early as a convenience to our customers who want to get a head start.
To shop Wirefly's Black Friday Sale beginning Thanksgiving morning, please visit, www.wirefly.com.