Compare
Cell Phone Plans
Finding the best cell phone plan and smartphone has never been easier! Take the hassle out of getting a new cell phone plan and get started with our state-of-the-art wireless plan and smartphone comparison tools.
How to Find the Right Plan
Wirefly crunched the numbers on thousands of cell phone plan combinations currently available in 2018 so consumers can quickly and easily compare cell phone plans to find the best wireless plan for their needs. To view our plan comparisons to find the best one for you, simply:
Input your cell phone usage habits so we know how many lines, data, minutes, and messages you need per month.
Choose the phone you would like to use with your new plan (optional)
Sort results by price, carrier, network, features, data, or popularity
Consider the location you will be using the plan you choose, as coverage can vary in different cities.
Click on the plan name to learn more, or if you have selected a plan, click the green button to go to that carrier's website to check out.
Wirefly is constantly monitoring phone and plan pricing across the entire wireless industry, and analyzes existing wireless plans on the market in real-time from both major and minor carriers (both contract and no contract) to find the best plans for you.
Choosing the Best Cell Phone Plan
There are so many options out there for cell phone plans lately that you don't have to look very far to find something that will work for your budget and keep you connected. However, what do you really need and how much do you want to spend? One deal may seem like the best, but it could also be a big drain on your wallet compared to a similar plan with the same talk, text and data limits. Once you find a good cell phone plan, it's best to compare it with as many cell phone plans as possible. You can view a variety of different cell phone selections at the best prices and check out different plans right here at Wirefly. We help you save time and money so you get the best plan for the best price. We also encourage you to check out Wirefly's picks for the best cell phone plans of the year.
Why Wirefly?
Wirefly's mission is to make finding a new cell phone plan as simple as possible. We've engineered our comparison tool to be a powerful, yet fun to use, comparison engine that can instantaneously compare thousands of plans and phone combinations across many carriers. All you need to do is enter your search criteria using the buttons and sliders above.
The cool thing about Wirefly is that we have a full-time price monitoring team whose job is scour changes in the market to keep our comparison engine plan results as fresh and up-to-the-minute as possible. In addition, we have a panel of experts who have extensively reviewed every carrier and phone. If you're looking for a killer deal on a cell phone plan, Wirefly's tools can make it happen. Not only will you get a good price, but you'll have all the information necessary to ensure that the plan you've chosen will fit your requirements.
Types of Cell Phone Plans
Most people want a cell phone plan that allows them to use the minutes they need, get the text messages they want and use data as they go. Choosing a carrier's wireless service depends on multiple factors like data limits, minutes offered, and text message limits. But there are also additional criteria that must be considered such as coverage reception, network type (GSM vs. CDMA), smartphone desired, number of lines, and whether you want a postpaid or prepaid plan.
If you depend on a cell phone for most or all of your communication, then it's crucial to have a wireless plan that suits your needs. You can look up different carriers and plan types with our comparison tool and see how much you could save over your current plan. There are several different types of wireless plans:
Individual plans
Shared data plans
Pay-as-you-go plans
Bring your own phone (BYOP) plans
With individual, or single line plans, you only have one line with one monthly rate for data usage, talk, and text. Individual plans won't include any other phones or lines. If you're an individual without a spouse or children, then a single line plan is probably the best option for you.
Family plans mix up the devices and plan offerings so you can have a phone line for each member of your family. While a family plan has a higher price tag, it's still the best deal if you need two or more lines. The main benefit of a family plan is cost reduction due to paying for multiple lines every month. You should make sure to subscribe to a plan that will cover everyone in your family's needs.
Shared data plans overlap with family plans in that they are designed for multiple lines which all share from the same pool of data. So a shared data plan might feature unlimited talk and text, and a pool of 20 GB of data that is shared among the devices on the plan.
Prepaid plans are, you guessed it, plans that you pay for before you use it. Prepaid plans typically tend to be somewhat flexible in terms of payment and pricing. Many people are drawn towards prepaid plans because they do not require a credit check in order to qualify for and purchase the plan. Prepaid plans have come a long way in recent years, with many carriers offering state of the art smartphones even to prepaid subscribers. That wasn't always the case.
Pay-as-you-go plans are similar to prepaid plans, but you only pay for usage as you use it instead of having set terms such as monthly billing cycles. With pay-as-you-go plans, you'll most likely use a phone you already own, and simply switch out the SIM card. You'll only pay for what you want, but you may encounter additional fees along the way.
No Contract Plans
With a contract plan, you are signing up for a minimum of two years in most cases. You pay each month, but you are obligated to continue paying for the full length of the contract. To cancel, you'll be required to pay an early termination fee. This means that whatever is left on your contact will be calculated as part of the fee as a percentage with a penalty on top of it. Contract plans were the norm up until just a few years ago.
These days, almost every plan on the market is a no contract postpaid monthly plan. The main benefit of a no contract plan is, you guessed it again, the fact that you're not bound to a contract. Since most customers are not on contracts, the wireless carriers try much harder to keep their business. It makes sense that if you can leave at any time, carriers will do their best to prevent that from happening. One of the downsides of no contract plans is that the price of the phone is no longer subsidized by the carrier. That means you may pay an extra several hundred dollars for the smartphone you want. Most major carriers make this affordable to customers by offering a phone installment or leasing plan. The way it works is that you'd pay a small down payment upfront, and then pay off the rest of the phone over monthly installments for the next 12 to 24 months.
Bring your own phone plans allow you to do just what the name implies: bring the phone you already own to a new plan. BYOP plans are useful when you don't want to shell out a bunch of money for a new smartphone. Most smartphones these days are engineered to last more than just a couple of years, so BYOP plans are popular.
What Wireless Plan Fits Your Needs?
When choosing the right plan, you should think about how many people will be on the plan and what types of services you want to include. The most basic factors in any plan are:
Talk: Minutes
Text: Text messaging
Data: Data usage in MB or GB
If you're looking for a very inexpensive plan, you can opt for one that offers a limited amount of talk, text, and data. However, many plans nowadays offer unlimited talk and text as a standard part of the plan, with data being the variable that fluctuates with price. Recently, the major carriers began offering unlimited data plans once again, which was a welcome change for virtually everyone. All four major carriers offer unlimited data plans, although the data may be throttled or deprioritized if you surpass a certain threshold in a given billing cycle. T-Mobile currently offers the highest 4G LTE data limit at 50 GB before data speeds are deprioritized.
Data Plans
Data usage is usually the key factor in how people choose their plans today. Not too long ago, most carriers charged a pretty penny for high data usage, and unlimited data plans were hard to come by. Plans were typically priced per megabyte or gigabyte. Back then, going over your data limit would cause you to be charged expensive overage charges. Luckily, those days are behind us, and unlimited data plans are widely available from a large number of carriers.
Installment Plans
As mentioned earlier, cell phone carriers like Verizon, T-Mobile, Sprint, and AT&T offer installment options where you can receive the phone upfront for little to no cost, and you'll pay off the cost of the phone monthly, typically over 24 months.
For example, the AT&T Next plan allow you to pick an eligible phone to receive with no down payment. All that is required is to pay a small monthly fee and you'll be entitled to an upgrade at no extra charge every 12 or 18 months. This is a way that everyone can afford to get the latest phones without paying a lot up front. T-Mobile has a similar model called JUMP! On Demand.
Free or highly discounted phones were standard practice during the era of contract phone plans, but since we've moved on from that time, installment plans are your best bet to getting a phone upfront without paying much or anything at all.
International Plans
The vast majority of carriers work very well in the United States. However, not all plans are created equal when it comes to international usability. Fortunately, Wirefly's comparison engine makes finding a plan that offers global features such as free international data, calling, and text messages as a standard inclusion. All you have to do is go into the "Advanced Options" tab and select "Good for International Use."
Compare Cell Phone Carriers
AT&T
AT&T is one of the larger wireless providers and has multiple types of plans, including unlimited data. You can get individual, family, contract, no contract, and pay-as-you-go wireless plans.
Verizon Wireless
Verizon Wireless offers individual, prepaid, shared data, unlimited data, and no contract plans. Shared data plans can be used by a single individual or as a family and come with unlimited talk and text, and a pre-specified amount of data.
Sprint
Sprint sells a few different type of plans including a new plan for friends and family called the Sprint Unlimited Freedom Plan, which offers unlimited data, talk, and text.
T-Mobile
T-Mobile, which calls itself the "uncarrier," boasts plans that are all no contract plans. With the T-Mobile ONE line of plans, T-Mobile customers get unlimited talk, text, and data (throttled at different levels) for a single monthly price, meaning taxes and fees are included in the price you see. T-Mobile offers both individual and family cell phone plans.
Other Carriers
There used to be only four or five large carriers that covered the entire country. That is no longer the case, as there are a variety of other quality cell carriers that provide exceptional service. Smaller carriers, called MVNOs, which is short for Mobile Virtual Network Operator, lease spectrum from the networks of some of the larger carriers. In aggregate, MVNOs like Ting, Tello, Republic Wireless, US Mobile, Boost Mobile, and Virgin Mobile have millions of subscribers nationwide and offer comparable service to the "big four" carriers. These smaller carriers can be compared along with the aforementioned major carriers simply by using our cell phone plan comparison tool above.
Coverage Reception by Carrier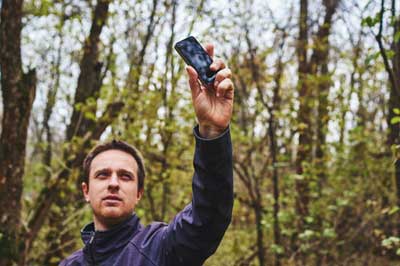 One of the main factors you should consider when examining cell phone plans is the carrier's cell reception. What good is your smartphone if you don't have coverage where you use it most? Overall, Verizon typically scores highest in coverage reliability in most independent tests. They're usually followed by AT&T, T-Mobile, and Sprint, in that order. That's just overall, however. When it comes to subsets of overall coverage, other carriers excel and fall behind, depending on the category. For example, T-Mobile has surpassed Verizon in some independent tests when testing 4G network coverage.
While national coverage rankings are informative, they're not as important as what the coverage performance a given carrier has in the city you'll be using your wireless service the most. Verizon might have the best national coverage overall, but if it doesn't work in your town when you spend the most time, then you'll be better off going with another carrier. Check the carrier's coverage maps in your city to help make your decision.
Beyond just coverage, different carrier networks also feature different average data speeds for both upload and download. T-Mobile and Verizon have been going back and forth in various independent data speed tests, but the other carriers are not far behind. In fact, even when it comes to coverage as a whole, most carriers these days are pretty close to one another. If you live in a big city or populated metro area, chance are you'll be covered by just about any carrier.
Find the Best Cell Phone
The beautiful thing about Wirefly's comparison engine is that not only will it find you the plan you are looking for, it will also find you the phone you want. You can use our sophisticated yet easy-to-use phone comparison tool to compare phones by:
Price: Top-of-the-line, mid-range, or inexpensive
OS: iPhone/iOS or Android
Manufacturer: Apple, LG, Motorola, Huawei, HTC, ZTE, BlackBerry
Device type: smartphone, flip phone, tablet
Camera: high-resolution, front-facing, rear-facing, dual camera, 3D
Size: compact or large/phablet
​Connectivity: Does the phone's data connection support 4G LTE or just 3G, or have no data at all
Form factor: Is it a standard smartphone, or is it a flip phone or some other form factor
Storage and Memory: Does the phone have enough RAM and storage for your needs
Accessibility: Hearing aid or other accessibility options
Color: What color the phone is
​After you've used our comparison engine to figure out what phone you want, you can plug that device into our plan comparison tool and you'll only see plan results that work with the smartphone or device you've selected.
We have reviewed a selection of carriers including AT&T, Sprint, T-Mobile, Verizon Wireless, Boost Mobile, Virgin Mobile, Straight Talk, U.S. Cellular, TracFone, Tello, and more. Some phones are only available with certain carriers because the carriers produce some phone models themselves. But most carriers will serve a variety of manufacturers so in most cases you'll have a wealth of choices with any given model.
Find The Best Cell Phone Plans in Your Area