Best Call Center Software of 2023: Pricing & Reviews
Call center software serves as a telecommunications solution that provides dedicated features to call center operations for both inbound and outbound calls. The software gives call agents the tools they need to make and receive large call volumes, assist customers and clients, and route callers over the phone in an efficient manner.
Compare Call Center Software
Compare the best call center software using Wirefly's comparison guide below. The comparison table below displays call center software by price, reviews, ratings, features, and more.
The earliest versions of call center software, the phone banks were connected to a computer, known as an Automatic Call Distributor, that would direct all calls. The Automatic Call Distributor system hasn't changed, but call centers have evolved from being rows of phone banks that are manned by telephone operators. Call centers now use multi-lingual voice recognition cloud-based software systems that connect customers to agents across the world based on the needs of the client and skills of the operator. Modern virtual call center software creates new communication avenues, while given call centers and agents the ability to provide a high level of service and efficiency.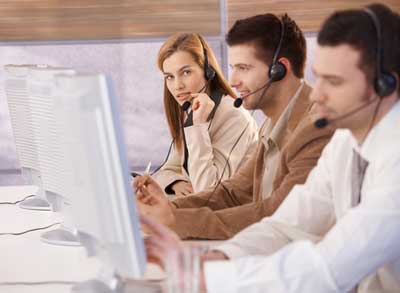 Today, call center technology, also referred to as contact center software, is cloud-based. Being cloud-based means that instead of connecting to the Automatic Call Distributor (ACD) physically, the software connects virtually through the internet to the provider's data center. The call centers are no longer responsible for keeping the software up-to-date or maintaining hardware; this is all done by the service providers. Businesses can now focus on the more important aspects of their daily operations. All businesses need to have to use this call center technology a call center technology provider, internet connection and a phone (physical or web based). With modern call center software, contact centers are not limited to phone-based communications. The business can expand to include live web chat, email, and video communications. Contact centers can utilize every method of communication.
The Five Benefits of Using Call Center Software Solutions for Call Center Operations
1. The Call Center Software Integrates with the Company's CRM
Call center software solutions allow the business to track its failures and successes. The software also allows for the analysis of data to determine which times are best to pick up the phone. Easily add new customers to the database with every call. It's also convenient when the call center software can integrate with the business VoIP phone system being used to make the calls.
2. The Time of the Customer is Respected
Customers do not enjoy wasting a lot of time waiting on the phone. They become even more frustrated when they have to explain their problem more than once, or connecting with an agent who is not qualified to address their concerns. Contact center solutions can direct their call to the right place and pass on the information to an available agent.
3. Social Media Integration
Customers chat, like and tweet more than they make phone calls. Today's contact center software solutions can sort through social media and to detect customers that require attention and why. Companies can use social media as another medium to direct customers to the agents.
4. Optimize the Customer Experience
Contact center software improves the customer service experience. Supervisors can monitor the call and "whisper" into an agent without making a customer aware of the interaction. If necessary, supervisors " barge" into a call and take it over. Either way, customers will enjoy a better call/customer experience and be able to speak with an experienced agent.
5. Distribution Rules are Customizable
Users of call center software can customize the order of calls. The rules that establish the priority of calls can reflect specific criteria like the length of the call, the analysis and tracking of data based on success rates, skill sets, and more. The set rules can also ensure that customers speak with the same agent each time they call.
What to Look for in a Call Center Provider
Reliability & No Downtime
No other characteristic is as important as reliability. A call center experiencing technical difficulties can cost businesses a lot of money each minute the system the down. The provider used should have 99.99% reliability. Companies like Five9 can guarantee a 99.99% uptime. Unlike on-premise solutions, hosted contact center software is replicated in many places geographically to ensure dependability.
Admin Portal Access, Dashboard Simplicity, Easy to Use Software
Having a staff that has difficulty using the program makes even the best features pointless if the agent ends up writing everything down on slips of paper. Make sure the agents can learn to use the software's complex features before investing in contact center software.
Gives Agents a 360 Degree View of the Client
The call center solution needs to gather information about a customer from several sources provide the agent with the information, allowing the agent to provide high-quality service to the customer. Having an understanding of the customer's current concerns and past actions will help the company predict the client's future needs.
Automated Task and Self-Service Features for Customers
Time is valuable. A good call center software handles the tedious tasks, freeing agents to spend time on more important things.
Security Features
With identity theft and leaked emails at an all-time high, it is important to have the proper amount of encryption to keep all data safe. Also, if the company handles financial and medical communications or data, proper handling of this information is tightly regulated. It is important that customers feel like their information is safe in the hands of the business.
Auto Dialers Outbound Call Centers Should Consider
If there is anything an outbound call center can benefit from, it's a high level of efficiency and an increase in productivity. Using call center software that integrates an automatic dialer will have organizations experiencing both. An automatic dialer eliminates the time wasted by manually dialing numbers. Having an automatic dialer eliminates the need for agents to manually dial numbers. Auto dialers can also handle call management and lead generation. Most call center software solutions include auto dialers. When comparing providers, take a look at these auto dialers. Not all auto dialers come packaged with call center software.
Power Dialers
Power dialers provide a significant increase to productivity despite being simple. They only dial out a new call once the agent finishes their previous call and is ready to accept another one. When placing the calls, the power dialer takes into consideration the agent's skill and priority, and the availability of other departments, to determine the most efficient match.
Preview Dialers
Preview dialers make their calls from a preset list of leads and provide an overview of the caller's information before making the call. Having an overview of the current caller lets agents see prior interaction with the company like relevant account information, sales and any previous calls to give a sense of context to the call. A preview dialer sequentially calls from this list to provide a steady flow of calls.
Progressive Dialers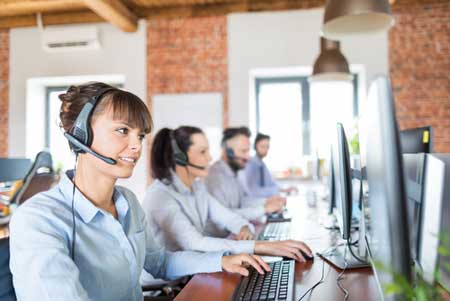 Progressive dialers are essentially a combination of power and preview dialers. These dialers have the functions of both preview and power dialers. The dialers automatically make calls from the list of leads, one after another, to keep a steady stream of calls and limit downtime in between calls. The dialer also provides client history and important call information to the agent. The agents see this information when the call gets placed.
Predictive Dialers
Predictive dialers work by placing the maximum amount of calls possible in the shortest time frame. They collect data like the average call length, the average number of calls it takes to make contact with a caller, and the number of agents available. Predictive dialers use algorithms to ascertain information that would reduce agent downtime. The time that agents spend making unsuccessful calls before reaching a live person gets reduced significantly.
Necessary Features for Inbound Call Centers
Improving the productivity and efficiency rates for inbound call centers involve routing incoming calls to the agent who has the best skills to handle the situation. In the early years of inbound call centers, calls were routed manually to the next available agent. There was no regard to prioritization or the skill of the agents answering the call. Now, with the assistance of contact center software solutions, call centers have a mechanism in place to ensure that callers get placed with the right agent. Contact center software eliminates blind call shuffles and makes use of automated attendants to guide callers, or skill based routing that directs callers to the departments they need without bouncing around from one agent to the next.
Automatic Call Distributor (ACD)
An Automatic Call Distributor (ACD) is used typically for call centers that receive a high volume of inbound calls. The ACD system redirects and routes incoming calls to the appropriate agent who has the skill set, or priority to handle the call. The systems work by utilizing account information like the caller's menu selection, time of day and telephone number. ACDs are an important way for inbound contact centers to maintain their efficiency.
Interactive Voice Response System (IVR)
To enhance the benefits of using an Automatic Call Distributor, combine the system with an interactive Voice Response system (IVR). The IVR system guarantees that callers will always speak with the proper agent or department to receive the assistance they need. The system asks callers questions to determine where their calls should get directed. The system also allows call centers to customize their own menus, greeting and prompts to inform and direct callers.
Skills-Based Routing
Working with the previously mentioned features, skills-based routing assists IVR and ACD systems direct callers to the department they want, or the one that meets their needs. Skills-based routing ensures that customers get connected to the agent who with the best qualifications to handle the situation, based on IVR selection, priority level, the caller's interaction history and the skill set of the agent. The feature also considers factors like geographic location and language spoken.
Customizable Call Queues
Even with the following systems in place, all call centers, regardless of volume, will experience call queues. Proper management of the queues will help to reduce wait time and increase the satisfaction of your callers. Call center software offers solutions that include: personalized greetings, hold music, separate queues for different departments, and the ability to set a maximum queue length. The features help to minimize the wait time for callers. Some solutions will allow callers to select a callback option instead of waiting on hold.
Dedicated Phone Numbers/Extensions
Having dedicated phone numbers and extensions lets your call center separate departments and call queues. Dedicated extensions and phone numbers designated to specific departments, management or skilled positions allow the call center to be better organized. It also allows call centers to use automated call centers to fully take advantage of the benefits of ACD systems and skills-based routing. Direct lines allow callers to avoid the Interactive Voice Response System if they know who they are trying to contact.
Agent Voicemails
Combining dedicated phone numbers with voicemail systems for departments or individual agents conveys a professional image and helps to maintain efficiency. If an agent is unavailable, callers have an option to leave a voicemail message so they can get called back at a later time. Having voicemail capabilities allows customers to contact the call center outside of business hours and leave a message to receive a call back during operating hours.
Analytics and Metrics in Real Time
Having a real-time dashboard lets managers monitor the agents' activity as it happens. The manager can shift priorities and make fast decisions to maintain optimal productivity and efficiency to ensure that inbound callers receive a satisfactory experience. With a real-time dashboard, managers can keep track of information like the longest wait time, average wait time, and the number of agents available.
Historical Reporting
While real-time statistics are helpful for making short-term changes, historical reports allow managers to use long-term data to gain an understanding about how the call center is operating over a longer time frame. These historical reports monitor department performance, campaigns, tactics, and priorities to acquire a deeper understanding of the call center's strengths and weaknesses.
Final Thoughts for Shoppers Considering Contact Center Software
Don't be tempted by software systems that offer the lowest prices of the latest features. The best call center software is one that works the best for the organizations. It should have features that the company needs at the best price. Avoid paying for unnecessary features. The contact center software should have everything the organization needs at the best price.
Call centers should not shy away from long-term contracts. Long-term contracts prevent businesses from increases in pricing. Call center software providers may also offer incentives for signing a contract. Another benefit of signing a monthly contract, the call center software provider will work to ensure that the call center's needs get met because they want to keep the business. Regardless of whether a contract gets signed or not, call centers save money by no longer having to purchase and maintain equipment. What makes using a hosted contact center solution even better, it can be up and running within a day.