Best SIP Trunk Providers of 2023: Pricing & Reviews
Find and compare the best SIP trunk providers of the year using this guide. Using the table below, compare SIP providers by price, features, reviews, and more.
Provider
Plan Details
Monthly Rate*
The #1 VoIP solution for remote teams.

Work from anywhere with mobile & desktop apps
Stay connected with video meetings
Manage users easily with intuitive admin portal

Details

46 Reviews

Alliance

Simple Control Panel Interface
25 minute easy setup
Daily call reports

* 12% discount for subscribing and paying for a year upfront

Details

13 Reviews
What is SIP Trunking?
SIP stands for Session Initiation Protocol. It is a virtual equivalence of a traditional phone line. It is especially useful for businesses. It connects you virtually to the PSTN (Public Switched Telephone Network) using your internet connection. Trunking refers to the earlier days of telephones. It was a way to allow communication for a large number of users that was shared. This is one of the primary protocols that VoIP uses. Traditionally, a physical line was needed, in addition to circuits, to connect you to the PSTN. With a SIP trunk, you no longer need the physical connection since your virtual connection runs on your already existing IP network. Due to being transferred over the internet, instead of landlines, you can enjoy video, voice, and web services on one business line.
The invention of PBX and VoIP have made it so that voice communications aren't restricted any longer to traditional landlines or physical circuits for phones. Now, SIP supports a signaling language that carries voice, instant messaging, and other data. It increases flexibility and reduces the limits of old systems while reducing costs at the same time.
In business, it's important to have a local presence. However, it can be difficult if you aren't a large company. To maintain a professional appearance on the ground, you can use SIP services whether you're a large or a small business.
How Does SIP Trunking Work?
Your IP network that you already have is used to send unified communications over it. You don't need an old fashioned telephone line when this is the case. Anyone else with a phone running on a PSTN can talk to VoIP users and hook up with a PBX system that is qualified.
There are three elements needed to operate a SIP Trunk: SIP provider, SIP-enabled phone system, border element to let your enterprise network connect with the PSTN. A switch or firewall can act as this border element. You can vastly boost the amount of telecom reach your business has, making an easy transition.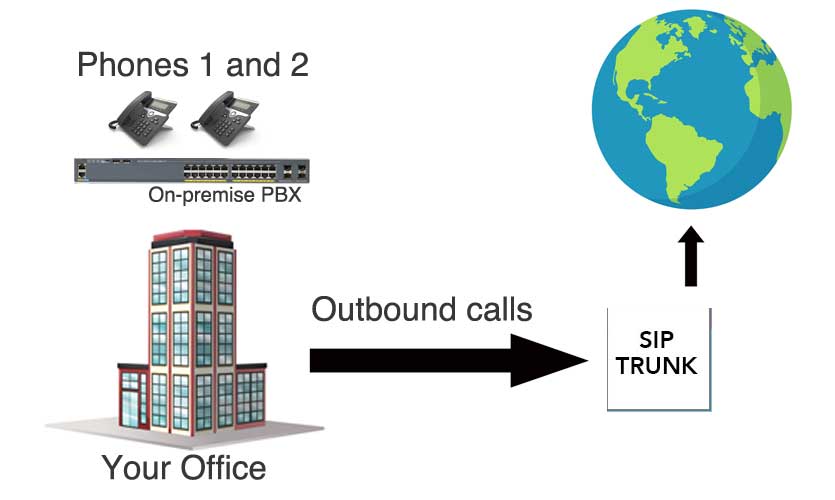 Benefits of SIP Trunking Services
It's important to appear large and professional. You can appear large and professional by having multiple phone lines with routed systems in place. It makes it look like you're a fortune 100 company. It also means you can maintain a local presence. But this is just one of the benefits.
With the flexible nature of a SIP, you can let users add on or take away the amount of phone lines they need. That reduces overpaying for lines that go unused, and waiting for the company to sort things out. With web portals, you can handle the traffic safely and tailor it to your custom needs instantly.
Bad weather, as well as relying on expensive repair companies, can mean that analog trunks are a disaster. With SIP trunking, you can reduce your risk for catastrophe and reroute or prioritize calls through the correct network. If you don't have an on-premise PBX and no need for a SIP trunk, you can get a fully hosted phone system from a hosted PBX provider.
The hardware is condensed. This means you have less stuff to set up. It also means the maintenance costs will be less of changing or adding to your existing phone system. It can continue to expand without needing more hardware, since you won't need any new devices.
Today, businesses have to be mobile to compete. Sometimes, you may need to relocate employees or offices to a new place. When this happens, you can't simply change your number each time. Customers would forget the new one and you would miss out on opportunities. SIP lets you take your number with you on the go. Whether you are just traveling or completely moving offices, your temporary link can be turned on to forward calls, saving you time, money, and valuable business opportunities.
With the global nature of the digital world and internet, technology is connecting everyone more. You need to be able to communicate internationally, not just in your home town. Luckily, long distance calls are competitive with SIP trunking.
Related: Compare Business Phone Service
How SIP Trunking Boosts Your Business Communication
When you talk about a company getting bigger, you need scale. Scalability is the ability to grow at the right pace without spending too much. On old phone lines, you would have to buy 24 lines just to get one new one. That is a lot of wasted value for a company. This is especially true if you need to add revenue to your customer service or other department. With SIP trunking, however, you can avoid this annoyance and instead enjoy the real ways to scale up without spending too much of a fortune on technology and unused items.
One of the biggest headaches with phone lines for businesses is managing them. With traditional methods, you would have to take the time to hire the right manager of IT. It would take months, and then you have to pay their salary. All of the hassle and cost is in house. However, when you're going with certain SIP providers, they will do this at their own location, with managers and systems in place. In essence, you're getting all the benefits of the automation and reduction of risk, while worrying about it less and spending less for a better service.
Customers today demand fast reactions for problems. One of the things that can get in the way of this is storms and other types of outages. If you experience an outage, you could be losing potential customers every minute. With satellite technology on SIPs though, you can have a team all over. If one location goes down, you can just shift the lines to forward to a new location. This way you stay on top of the things that are slowing up the system. This allows your customer service team to solve problems faster and boosts revenue like other methods simply don't do.
You can save up to 25% with SIP. This is in large part because you're utilizing a single connection. This is not something you will find traditionally in other connections. That's not to mention the calling rates. There are flexible options most carriers don't provide, like being able to make voice calls for free between your many offices on your VoIP system. The pricing and installation comes down for you, as does the call rate.
PRI, or Primary Rate Interface, allows for bigger businesses to send a bigger number of communications from one single location. SIP is making other technology outdated because of this. T1 lines are also something that traditionally telephone circuits rely on and the calling fees go up. It's one of the reasons SIP is better than PRI.
PRI trunking doesn't do very well in inclement weather. Snow, rain, sleet, and wind can negatively affect your ability to make calls. However, SIP services will keep you connected and reroute the calls as needed. This means it is a dynamic solution that uses the internet to solve your problems better.
Compare SIP Providers
When you've made the decision that you are going to use SIP trunking, you now need to focus on how to choose a provider. The following list will help you determine this. Many business VoIP providers also provide SIP services for business.
Network - a lot of providers are now just rebranding the lines that their competitors use as their own. You want to know if they are actually running and hosting their own, if your SIP is talking about offering this service. If they are using a middle man, you will have a number of problems. First it can take longer to get your problems solved. Secondly, the cost can go up due to this.
Security - With the amount of phishing and hacking attacks on the rise, you will need to protect your business from online digital threats from the internet. Adversaries target all kinds of systems, not just online though. They can get into hardwired offline systems with electricity that changes or disrupts your telecommunications. With this enacted, they can then blackmail you to ensure you pay them or else your communication will be cut off. They can also potentially violate the privacy of conversations by listening in. With security threats at an all time high, do not take chances on keeping your business safe. SIP providers that have high security measures should take priority over those who do not.
Porting of Numbers - Depending on where you business is located, you may need to change numbers. If you have an international presence, this can be a daunting task. However, it doesn't have to be. If you have the right company looking out for your best interests, they will help you arrive at a porting solution that fits your needs. Keep in mind different regions may have different policies on this however.
Customer Service – Customer service is crucial for any business to succeed today. If you don't have customer service, you won't have a business for long. However, you also have to make sure the companies that you hire for their services and products also pass the customer service test. If they're willing to be quick and professional, you've got a great partner. If not, it's time to evaluate someone else.
Pricing – As with all products and services, the price is the ultimate test. After all, if you had the best solution in the world but it was too pricey, it wouldn't be feasible. In order for SIP services to work, they should fit your needs and allow you to get more value out of the service than you put into it. Do your research into these different areas to make sure you can continue to enjoy quick and honest business partners when selecting someone to help you with your SIP.