Best Business VoIP Providers of 2023: Pricing & Reviews
Find and compare the best business VoIP providers of the year using this guide. Using the table below, compare business VoIP service providers by price, features, reviews, and more.
Provider
Plan Details
Monthly Rate*
RATED #1 BY INDUSTRY EXPERTS

Includes 100+ Premium Features
Unlimited Calling, Faxing, SMS, Conferencing
Trusted by over 350,000 Businesses

Details

142 Reviews

Business VoIP Made Easy

First 2 months free
Call Forwarding & Routing
Desktop, Mobile, & Web Apps

* per user for 10+ users, with 2 year agreement

Details

5 Reviews

Alliance

Simple Control Panel Interface
25 minute easy setup
Daily call reports

* 12% discount for subscribing and paying for a year upfront

Details

13 Reviews

Nextiva Office

Low rates and no contracts
Anytime US-based support
Unlimited calling in US & Canada

* As low as, per month/user

Details

194 Reviews

The phone system built to do business anywhere

Video Meetings & Text Messaging
Call Forwarding & Routing
Desktop, Mobile, & Web Apps

* $5 per additional user

Details

1 Reviews

Get 99.99% network reliability with Fios.

Business Digital Voice
1-year price guarantee
Unlimited data

* Per month. Plus taxes, fees and equipment charges.

Details

11 Reviews
Business VoIP service is simply phone service aimed at businesses that uses the Internet rather than a standard PSTN landline. Most business VoIP providers host the phone system in the cloud, and away from your office premises. Some providers of business VoIP services offer complete communications solutions that let you not only make and receive phone calls, but also send messages and video through their system.
Business VoIP systems offer two main advantages over traditional landline solutions: a better set of features and lower costs, both in terms of initial setup and monthly fees. With a VoIP system, even a small startup can get advanced features that were previously reserved for large enterprises. These include automated attendants, advanced call routing and forwarding, music-on-hold, multiple extensions and voicemail. The costs of using a VoIP service tend to be just a fraction of what a company would pay for a traditional landline service with a similar set of features.
Top Business VoIP Providers
| Provider | Vonage | RingCentral | Mitel | Nextiva | Jive | Grasshopper |
| --- | --- | --- | --- | --- | --- | --- |
| Date Founded | 2001 | 2003 | 1972 | 2006 | 2006 | 2003 |
| Average Price per Line | Ask for quote | $34.99 | $20 (requires contract) | $32.95 | $23.95 | $26 |
| Headquarters | Holmdel, NJ | Belmont, CA | Ontario, CA | Scottsdale, AZ | Pleasant Grove, UT | Needham, MA |
| Free Phones? | No | No | No | Yes | Yes | No |
| Most Popular Plan | Unlimited Extensions | RingCentral Office | MiCloud Business | Nextiva Office Pro | Jive Tier 3 | Partner |
| Long Distance Rate | $0.00/min | $0.00/min | $0.00/min | $0.00/min | $0.00/min | $0.00/min |
| BYOD? | Yes | Yes | No | Yes | No | Yes |
| Review | Vonage Review | RingCentral Review | Mitel Review | Nextiva Review | Jive Review | Grasshopper Review |
Choosing the Best Provider for Your Company
While business VoIP services are quite affordable, with prices as low as $20 per line being common, price shouldn't be the only thing you consider when choosing which provider you'll use. Before you begin comparing services, you need to consider what your company's needs are in terms of usage and calling features. This will help you narrow down the list of providers and plans as you begin your search.
As technology has advanced, many providers of business VoIP services have entered the market. This increased competition is beneficial to business owners, as providers strive to offer the most innovative set of features at low prices. It also means that no matter the size of your business or your calling needs, you'll always be able to find a VoIP service that is right for you. Business VoIP services range from a basic phone service aimed at small businesses that only need one line, all the way to enterprise-class solutions for companies with thousands of workers spread out across several offices.
Before you consider signing up for a VoIP service to replace your current landline phone, it's important that you check whether your Internet connection has enough bandwidth to support using a VoIP service without running into performance problems. Most broadband Internet connections used by small businesses, such as DSL or cable Internet, are adequate for a simple phone system with a handful of extensions. Business VoIP providers usually have information on their website that will help you determine whether the speed of your current Internet connection meets their requirements for the type of service you'll be using.
When you switch to a business VoIP service or a hosted PBX provider, you'll also need to purchase phones designed to work with a VoIP line. While service providers also sell the equipment you'll need, the vast majority allow you to purchase compatible VoIP phones from a third-party vendor and use them with their service. VoIP phones from reputable manufacturers like Cisco and Panasonic can range in price from $50 for basic models all the way to over $500 for the most advanced ones.
Finally, after you've found a few providers and service plans that are right for you needs, don't forget to read reviews left by other small business VoIP users. This is very important, as reviews from actual users will give you useful information about a company's reliability, customer support quality, as well as how they handled any problems their subscribers ran into.
What to Ask a Business VoIP Provider About Before You Sign Up
Here are a few topics you should get informed about before you sign up for a service. In most cases, you'll be able to find the answers you need on the company's website, but don't hesitate to contact them if you need some clarification.
Setup, Monthly Fees and Money Back Guarantee. Find out how much you'll pay to get your service set up, how much your monthly plan will cost you and whether the provider offers a money back guarantee in case you determine their service isn't up to your standards.
Features Included With the Service. Some features such as voicemail, call forwarding and E911 can be either included in the price of the service or come as an add-on which costs extra.
International Calling. If you expect to make calls to destinations outside of North America, don't forget to inquire about the rates. Some providers have plans that let you make unlimited calls to select countries. This can save you a lot of money if you make international calls regularly.
Hidden Fees and Extra Charges. Be sure to know how much your monthly service charges will be after any additional fees or taxes are added.
Porting In Your Existing Number. Ask whether you can transfer your existing phone number to your business VoIP provider and if there are any costs involved in doing so.
Contract Terms and Cancellation Fees. Some companies offer discounts and other promotions to new customers who take a fixed term contract. However, cancellation fees apply should you discontinue your service before the contract term is up.
Mobile App. If you want to use your business VoIP service on a smartphone or tablet, check whether the provider offers a mobile app. While most VoIP services can be used with free third-party softphone apps, having a dedicated app from your provider makes setting up and using the service easier.
On-Premise vs. Off-Premise. If you have an on-premise PBX that you want to use instead of a hosted PBX system, you should consider a SIP provider instead of a fully hosted PBX provider.
Main Benefits of Using VoIP for Your Business Communications
Be reachable anywhere. A popular feature of business VoIP services is called "find me/follow me." It allows people to reach you on your business phone number even when you're out of the office by ringing your office extension, mobile phone and home phone, either simultaneously or in a defined order.
Auto attendant. This feature greets your callers with a recorder message and lets them choose options to direct them to different departments or extensions.
Ability to have multiple phone numbers. With business VoIP, you're not limited to just one phone number from your geographic area. You can add toll-free numbers, as well as numbers in different area codes or even countries to your service. This is particularly useful if your business has customers around the world.
Communication services that go beyond just calling. You can get a complete business communication service with advanced features like automatic transcription of voicemail messages to email, sending and receiving faxes from a PC or mobile device, as well as the ability to send text messages with your business phone number, even from a computer.
Picking the Best Business VoIP Systems
In these modern times, cloud-based applications have marked the great advancements that have been made in how business is done and the many ways in which businesses interact with their customers. Social media platforms and online collaboration tools give users a direct line to businesses, and they come in handy for quick communication with customers and handling of issues. Nevertheless, despite the new technologies and applications that are cropping up by the day, having a conversation still stands out above them all as a means of handling a problem.
In the cases of businesses, the more the conversations that are had, the better it is for a given business. This is true, especially when the data from such calls is collected, stored, analyzed, and then integrated with business applications that can utilize it to understand and grow businesses. For this to be achieved, a pliable Voice-over-IP phone system with customer-oriented, back-end systems needs to be integrated, particularly customer relationship management (CRM). It is still vital for a business to have a telephone system that is full of features and IP-enabled, especially a system that can be fully integrated into marketing, sales, and other usual business initiatives on the software level.
The fact that the phone is still important and is still a crucial must-have thing is becoming inherently clear considering its position in the helpdesk sector. As stated by a good number of vendors of IT services and helpdesk software, customers proclaim that the phone is still their most preferred mode of reaching out for support despite the presence of email, live chat, and social media options. The customers also go further to state that the trend of phones being the most popular is not going to end anytime soon. This can be backed up by the fact that most of these customers usually resort to calling in case of delayed or no response in the other modes of communication and call again if a call goes unanswered.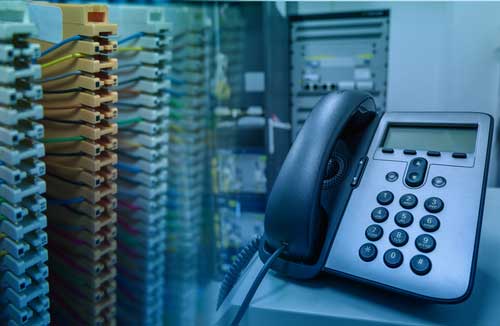 However, even with this apprehension in place, the various businesses out there still have a wide array of options at their disposal. The bigger and more established enterprises need to call for a selection of Private Branch Exchange (PBX) hardware and hosted solutions, contemplating their possible benefits (complete customizability and advanced functionality) in contrast to associated costs. Small to mid-sized businesses (SMBs), on the other hand, are required to make a similar choice with the difference coming in at contemplating their current budget and needs, in contrast to what they project these needs to look like in the future. As the phone technology continues to advance and incorporate more software, particularly cloud services, marketing automation solutions and CRM are precisely set to become of great importance. For many, the cost that comes with having a traditional PBX system may stretch beyond their operational budget and also not make a lot of long-term economic sense.
Moreover, for anyone running or intending to start a small business, they need to invest a lot of time and effort into the core of the business to register success. Investing a lot of time in buying, implementing, and managing infrastructure is a waste of time. It can turn out to be ultimately costly both in the time taken away from growing the business and in the capital
Small businesses would typically depend on a local telecommunications company to access elementary business phone needs, employing things like a CENTREX system. However, today such systems have become outdated and do not adequately meet the needs of any modern business, especially when it comes to emerging inclinations such as integrating cell phones, texting, enterprise social networking, and web conferencing. It also includes taking advantage of call queuing and call center software or any other features that are capable of streamlining processes, promoting collaboration, and accelerating growth.
Fortunately, in today's setting, there are a lot more available options as far as PBXs are concerned. The current PBX solutions are tailored to bring about the reliability as well as the features of an established enterprise PBX to small to mid-sized businesses. For the purposes of providing a comprehensive guide to these solutions, this article is going to use information gathered on the following eight hosted PBX solutions. They include RingCentral Office (For Business), Microsoft Skype for Business Online, DialPad, Fonality Hosted PBX, 8 x 8 Virtual Office Pro, Vonage Business, ShoreTel Connect Cloud, and Grasshopper.
Crucial Features of Business VoIP Phone Systems
The VoIP service solutions mentioned above come with a wide array of options and features. Products like RingCentral Office (For Business) and Vonage Business are designed to cater for larger businesses and provide enterprise features on the higher end. However, they have also put in place prices that are adjusted to fit into the budgets of small to medium-sized businesses. Other VoIP service providers, such as Grasshopper, are in a way tailored to suit the typical SMB market setups and offer the basics of a contemporary business phone system without necessarily needing any on-premises equipment or fixed phone lines. Although VoIP providers are a bit constrained in terms of features, they are cost-effective.
Looking at the other end of this space, the higher end, PBX providers that are hosted, such as Vonage Business and RingCentral Office, are expected to deliver IP phones that have already been configured to operate with the hosted PBX service. The VoIP phones link up to the provider through the internet and operate as precisely as a business phone is expected to operate, but the system that runs such phones is cloud-based rather than the telecommunication closet that is usually put in the basement. The configuration as well as the self-service management of these systems typically happens via a web-based portal and can come with a lengthy list of possible features.
Any SMB owner should look for certain crucial features in a VoIP service provider before purchasing. Some of these features include Interactive Voice Response systems (IVR) and call queuing. IVRs give a customer directions towards finding exactly what they need by pressing given button commands. Call queuing, on the other hand, comes particularly handy in call centers where such systems dispense incoming calls to specific individuals in the business depending on what the caller is looking for, dialed extensions or any other criteria that is used.
On-hold audio or music is another important feature, which is most effective if it has a comprehensive list of options provided by the business as well as the ability to upload custom audio or music. The ability to port numbers also needs to be considered. Number porting makes it possible to use a preexisting business phone number on the new service. This is particularly important for those who pay for lines like 888 and 800 numbers among others.
Extension assignments, which involve an administrator having the capability of assigning internal extensions depending on requirement, can also be added to this list. Others include voicemail transcription, which can be in the form of a text message or email message so that employees can be able to receive a voicemail from wherever they get their usual messages and call recording, which can come in handy when it comes to using phone experiences for sales and marketing intelligence collection. These are just some of the key features that can be found, and there are more to look out for out there.
In some instances, the VoIP providers also offer Public Switched Telephone Network (PSTN) connectivity via components that are linked up with digital or analog phone connections from the local telecommunication service providers and then connected to the business network. This enables a business to utilize local phone lines alongside its hosted PBX solution and is bound to add significant value if maintaining of local wired lines is a requirement.
Most, if not all, of the VoIP providers out there also offer smartphone integration with both third party and customs applications, such as CRM systems, which can extend phone systems beyond standard voice communication alone. Integrations such as these also facilitate the capability of transferring calls to and from personal mobile phones, placing and receiving calls from the personal mobile phones, and interacting with customers and colleagues through both voice and text messages. The calls that are facilitated through personal phones always appear to be coming straight from the business line, maintaining the required professionalism.
Internet Connection Requirements
Most of the business VoIP solutions demand a consistently stable internet connection at each point that the wired phones are going to be used. In many instances, the usual business-class internet services with adequate bandwidth are enough to support VoIP although the implementation of Quality of Service (QoS) configuration on the internet router may be required so that voice traffic is prioritized over other internet traffic to ensure maintenance of good call quality. Some of the hosted PBX providers offer to assist with this kind of configuration on customer hardware that is already in place presuming the hardware is compatible with QoS. Other providers separately sell a given piece of network hardware that comes with the relevant QoS configuration for businesses setup to ensure that call quality is given top priority over other features. You can test your internet connection using the Wirefly speed test.
In both these ways, the functionality and the quality of a hosted PBX with VoIP service only become as good as the internet connection available at the location of the business. If the bandwidth is not sufficient, having a VoIP solution in place becomes an impossibility. Some hosted PBX providers can provide businesses with dedicated circuits, which can be put in place to connect the businesses to the provider directly, but the circuits are quite expensive. Fortunately, for businesses, hosted PBX solutions can be implemented without necessarily requiring phones with an internet connection through several other ways.
Some providers do not utilize VoIP at all. They are simple PBX systems, which are meant to take existing phone lines as extensions and route calls through these lines. For example, a business may have the main number that directs callers to an IVR system. When a caller selects a given destination or dials an extension, the hosted PBX calls an existing mobile phone or landline number and links up the two calls. As this happens, the caller on the other side keeps seeing the business number as the system functions and looks like an in-house PBX with call transfer, forwarding, IVR, and on-hold features among other features.
The extensions in such instances can be mobile phones, the old school telephone system, or even VoIP service phones via a different provider. The hosted PBX in this case primarily focuses on the instance when a given extension is selected, enabling a call to be placed to the number that is assigned to the extension. This may come out as something simple, but it has been proven to make businesses of any caliber to appear as if they are working with enterprise-grade telephony software without necessarily investing in heavy-duty PBX solutions or customized desktop phone hardware.
Placing a call using such a system is done by initially registering a given phone with the service provider for outbound calling and then keying in the specific number, which the user wants to place a call to. For smartphone owners, this method is simplified further through a provider application that can be used to place outbound calls.
Network Optimization for VoIP
Anyone in charge of telephone operation in business needs to ensure that the local area network (LAN) can handle the available VoIP traffic on top ensuring that the available internet connection can handle the same. It, however, becomes complicated to some extent if VoIP is simply dropped onto the network, causing the traffic to be processed just like any other traffic running across the LAN. The shortcoming of this is that VoIP traffic is sentient of even the slightest of glitches than most of other office traffic. This results in sound breaking up or entirely being cut out, difficulty in establishing WiFi connection, or dropping and losing of calls in the worst-case scenario. It is, however, fortunate that most of the providers mentioned in this article have qualified experts who are tasked with guiding users through the setup processes and helping in optimizing and testing the network before deploying their solutions. This is something that is highly recommended, but other steps can be taken first to prepare a LAN network for VoIP and further simplify the deployment process.
One of these steps entails understanding Quality of Service (QOS). QOS is the pre-eminent channel for keeping the flow of VoIP traffic smooth. It puts specific traffic first on the LAN connection to ensure that certain streams (VoIP traffic in this case) are given top priority and always have a reserved percentage of the overall network available for the taking.
Codecs is another vital aspect to understand when it comes to preparing a LAN network for VoIP. This is especially meant to be an initiative taken by IT staff to familiarize themselves with the codecs being employed by the VoIP system that is about to be purchased. Options are always available translating to multiple codecs to be chosen from. Testing these codecs out during the period of evaluation allows buyers to pick out the most appropriate codec for their environments.
Having adequate knowledge on network monitoring tools is also important in LAN preparation. If a business has a LAN with over ten users, it is likely that there is at least one IT expert in place, and the individual is employing a certain tool in managing that network in terms of the health of connected devices as well as the types of traffic going through it. Before deployment of a VoIP system, it is important to ensure that the tools that are being used can at the same time effectively manage and monitor VoIP traffic by utilizing management protocols such as Simple Network Management Protocol (SNMP) or sheer packet sniffing.
Once a potential VoIP buyer has engaged with the service provider, the assigned experts help the buyer determine the general service grade of the available network (VoIP readiness factor). The expert also guides the buyer on how to alter their service effectively to run smoothly on the available infrastructure. If it turns out that the local networking infrastructure requires an upgrade, the above process is meant to ascertain that too. Therefore, it is important for any buyer to complete the entire process before investing on new switches or routers.