Verizon Unlimited Mobile Hotspot Review 2022
Truly unlimited cell phone plans have almost gone the way of the dinosaur. And if you are not the owner of an account that was established more than a few years ago, it is likely you have an "unlimited" plan that includes limits on your data and throttling once your data cap is reached.
Verizon recently made an updated plan available to customers that is truly unlimited and without caps of any time. The only throttling that takes place with the plan is the normal service fluctuations that all users experience as it corresponds to the demand on carrier towers.
The plan from Verizon has been popular with customers that have been unable to secure high-bandwidth internet by other means. Hotspots not only provide rural internet users with a means other than broadband service to stay connected, but is also essential to remote workers, digital nomads, individuals on location, and others. In short, anyone who would benefit from broadband service if it were available will find Verizon's unlimited hotspot service to their liking.
Cost of Prepaid Hotspot Service
The $70 per month cost for Verizon's prepaid hotspot plan is more than reasonable when you take into account the fact that the service includes unlimited data. Customers also get a $5 discount if they choose to pay with a credit or debit card and configure their payment settings to "auto-pay." Deeper discounts are available for previous customers of the company's prepaid service, as well as, users of multiple lines.
Verizon customers who currently use postpaid services will have to open a new prepaid account to take advantage of the unlimited hotspot data option. However, there is no contract involved so there is no problem if customers only want the service for a short time or find they grow disinterested in the unlimited hotspot service provided by Verizon.
One potential area of contention to note is that the service only works with a device that comes Verizon hot-spot capable. Also, Verizon does not allow these devices to be returned. A company rep speaking on the matter suggested users could resale the device on a marketplace like eBay due to the high demand for the phones. It is likely you could also find a used device on eBay that is compatible with the Verizon hotspot service. However, the company often discounts new devices.
It is a little interesting to consider the prepaid option from Verizon offers a significant upgrade to postpaid users of the company's hotspot services. Postpaid hotspot offerings from the company top out at a monthly fee of $80 and include 15 GB max of data. The throttling is fairly brutal at that point as data access slows to 600 kb/s.
The unlimited hotspot prepaid plan from Verizon is not easily located on the company's website. However, customers will see this option after choosing a device on the website or can request the service through a representative of the company.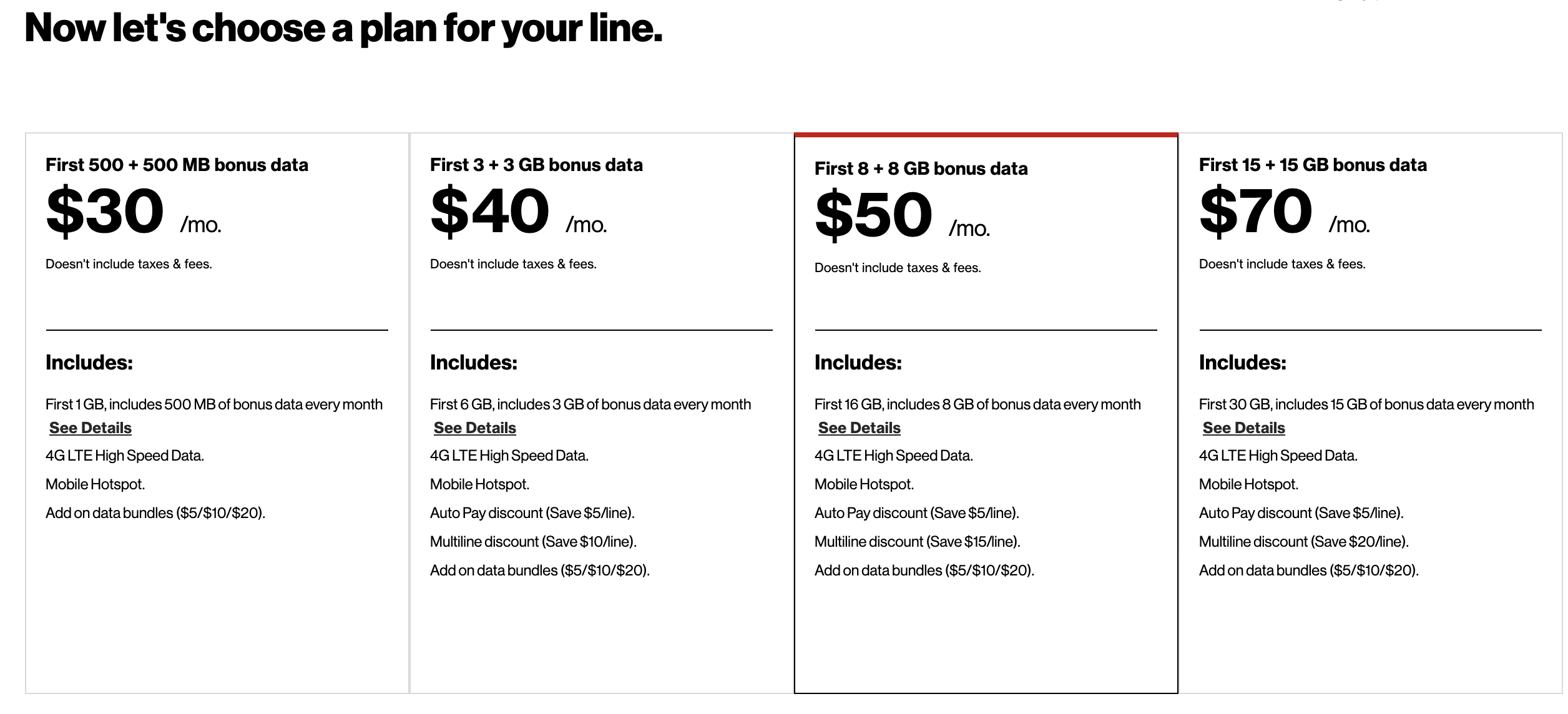 Related: Verizon Wireless Review
Options for Mobile Hotspot Service
A mobile hotspot is a device small enough to be handled in one hand that is capable of providing a user with a cell phone signal, in addition to, the option to use it as a local Wi-Fi network. Verizon currently has a variety of these devices for sale to suit the various needs of its users.
MHS900L - This device comes with a price tag of $149.99 but can be discounted to $49.99 when you sign-up for a Verizon prepaid hotspot plan. This is the cheapest device offered by Verizon and not many features come with it. However, the MHS900L can accommodate up to eight users at a time with high-speed wifi service.
MiFi 8800L - This device is a little larger than the MHS900L and is a bit more expensive at $200. Battery life is listed at 24 hours but 12 hours is more realistic for heavy usage. The MiFi 8800L can alternate between 3G and 4G capability, provide 15 devices with WiFi, and has a 2.4-inch color screen. Users have applauded the device for its ability to provide a strong signal in coverage zones that are generally considered weak.
USB730L - The modem from Verizon is a little smaller than some of the others and provides users with a USB stick style design. The power comes completely from the USB slot of a computer and the ultra-small modem does not have a battery. The USB 730L is similar to the MiFi 8800L in that it supports both 3G and 4G usage.
Performance of Verizon Prepaid Hotspot
Verizon Prepaid Hotspot users consistently benefit from great service even when at the edge of a service zone. This is even true for service zones with a reputation for not so great service. Users give varying accounts of service quality but performance in rural areas is generally expected to be on par or slightly better than low-end cable service.
The upload performance of the prepaid hotspot service from Verizon is considerably superior to low-end residential broadband service. Hotspot service is available throughout the country and only occasionally slows down to a speed of 10-20 Mbps. This happens generally at peak times in low coverage areas. In any event, the quality of browser service is constant with Verizon hotspot service.
The hotspot will occasionally drop a signal but these instances are few and far between. The signal is normally restored in a minute or so when there is a problem. Most users say they have not experienced any long term signal losses.
The Verizon website explains the company offers support for streaming video and users have experienced no problem up to 1080p. The only time there is a potential problem, the website explains, is when towers are overloaded. To this point, if you use Verizon's prepaid hotspot service in an area where towers are frequently overloaded, you may experience more problems than other users.
Related: Best Cell Phone Plans Currently Available
Truly Unlimited Service at Higher Than Expected Needs
Most internet users would not think of using a mobile hotspot as their primary connection to the internet. However, users who have chosen to do so with Verizon's prepaid mobile hotspot report surprisingly good results. Users report minimal downtime and connection speeds have been one of the most appreciated aspects of Verizon wireless unlimited hotspot service. This has been a bit of a surprise to some people since most users of the service exist on the edge of Verizon coverage areas. In addition to this, rural customers are often surrounded by mountains and trees. VoIP calls, streaming audio, streaming video, chat, and email have all demonstrated the ability to work well with the service. The service has shown it can handle basically everything a user can demand from an internet service.
In the end, Verizon mobile hotspot service is no substitute for high-quality cable or fiber connections. However, this service may be perfect for customers who live in rural areas where Verizon coverage is available but broadband coverage is not. Dependable mobile hotspot service is also great for remote employees and field workers who do not want to depend on whatever free service is located near them. This Verizon service will also prove useful to travelers who do not want to limit their access to online connectivity while on the road.