How To Buy Bitcoin on Android
It seems like the rise of Bitcoin will never stop with the price of Bitcoin rising almost every day. If you're thinking about getting in on Bitcoin and investing yourself, this is the guide for you. If you'd rather get started quickly because this is just a test run for you, there is another way to do so.
Buying Bitcoin through an Android app is probably the most efficient way to get started in Bitcoin quickly. Coinbase is easy to acquire and set up in a matter of minutes, and the application will let you buy Bitcoins right from your Android smartphone as long as you are in the U.S. There are other examples of Bitcoin exchanges which include Gemini, Bitpanda, Localbitcoins, Spectrocoin and Bitquick. However, Coinbase is the most well-known so we'll show you how to buy Bitcoin with Coinbase in the steps below.
How to Purchase Bitcoin on Android:
1. Sign up for Coinbase
Signing up with Coinbase is quick and easy. Once you're a member, you may be entitled to free Bitcoins, either as a new customer or based on whether you sell a minimum amount of digital currency. If you sign up for Coinbase with this link, you will get $10 in free Bitcoin once you buy or sell $100 worth of Bitcoin in Coinbase. (Note: Wirefly will also receive $10 in Bitcoin). You can also download the Coinbase Android app here, but you will not receive the $10.
(If you want a Coinbase alternative, CEX.IO is another online exchange and app that lets users buy Bitcoin and Ether with their country's fiat currency.)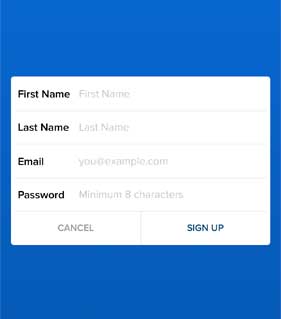 2. Verify your identity
Because Coinbase operates as a financial exchange of sorts, it aims to keep all transactions legitimate and above board. As such, the algorithm will not sell Bitcoin to anyone who cannot verify that they are who they say they are. Although having to verify your identity goes against the basic anonymity that a digital currency like Bitcoin is supposed to provide, it is still the easiest and quickest way to dive into Bitcoin quickly. The more verifications you go through, the higher your limits will be.
3. Link your bank account
Coinbase will ask you to connect your bank account to your Coinbase account. Note that the precise steps for verifying who you are may be slightly different depending on the country or state in which you reside. The same is true for linking your bank account, with the steps varying depending on your location. The basic premise will remain the same, however. Once your bank account is linked, buying Bitcoin will take 5-7 days for the Bitcoin to reach your Coinbase wallet.
If you want to buy Bitcoins immediately, you have the option to use a credit or debit card. This is faster, but will have lower limits. Connecting your bank account will take one or two days in the meantime.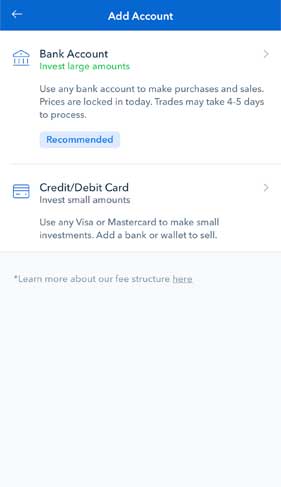 4. Buy Bitcoin
Coinbase will inform you once the identity verification and bank account linking processes are complete. Once they are complete, you're free to start buying Bitcoin (BTC), Ethereum (ETH), and Litecoin (LTC). You'll notice the current price for these cryptocurrencies at the top of your Coinbase dashboard.
Just tap on the 'Buy' button and enter the amount of Bitcoin you'd like to buy. You can either enter the amount of Bitcoin you want to buy, or the amount of fiat currency (such as US Dollars) that you'd like to spend. Select the digital wallet you'd like to place your Bitcoin into and your method of payment. After a short authentication process, everything is done and you own some Bitcoin, which you can view in your Coinbase account.
It's pretty convenient for users to buy Bitcoin with a credit card, but the processing fee is usually higher than for bank transfers. Furthermore, there is greater risk of fraud involved in credit card transactions. There is also a significant drop in the maximum daily purchase to as low as $50 to $500. Those want to make big transactions will want to use their bank account.
Related: The Best Cryptocurrency Apps for Android
Other Considerations
Apart from Coinbase, other sites offer Bitcoin services such as Gemini, Spectrocoin, Bitquick, Bitpanda, and Localbitcoins. Newbies find the use of credit card more convenient when purchasing Bitcoin. However, this method uses higher processing fee and is prone to transaction fraud. Also, credit cards have limits imposed on the amount used to purchase Bitcoin such as Spectrocoin users can purchase up to $50 of Bitcoin for the first four days, which then increases to $200 per day and $500 after seven days.