The Best Cryptocurrency Exchanges of 2023
Cryptocurrency is a digital asset based on blockchain technology. The asset is a medium of exchanging goods and services. Buyers and sellers use cryptocurrency to facilitate the exchange of other assets, as well as speculative investments. Cryptography, a technique to secure communication, is used to secure transactions as well as control creation of more units of the asset. In simple terms, cryptocurrency is digital money.
The growth of cryptocurrency started almost a decade ago with the creation of Bitcoin. Consequently, Bitcoin became the first decentralized cryptocurrency. Since then, thousands cryptocurrencies have been developed. All the other cryptocurrencies, apart from Bitcoin, are popularly known as altcoins. Altcoins are similar to Bitcoin, but have key differences depending on the coin. Examples include Monero, Litecoin, Ethereum (ETH), Dash (DASH), Stellar Lumens (XLM), Zcash (ZEC), and Ripple (XRP) among others. Ethereum, Litecoin, Ripple, IOTA, and Stellar Lumens are some of the most used type of altcoins in the world.
Cryptocurrencies are free from bank charges, at the same time are much stable against government's inflationary policies compared to fiat money. However, exchanges and transactions typically charge fees in cryptocurrency. Benefits associated with cryptocurrencies are quite immense. For this reason people are gradually embracing the use of cryptocurrency as a medium of exchange and investment. Cryptocurrencies support many transactions and trade exchanges in the world.
Cryptocurrency exchanges are online platforms for buying, selling or exchanging cryptocurrency for other digital currencies or fiat money. The exchanges are open for companies, institutions, market makers, speculators, and individuals. There are specialized features and trading tools within the online platform depending on the nature of the transaction. For professional traders, account opening and verification of their identities is vital. However, persons who would wish to transact occasional, on time trades, a different feature is also available.
If you sign up for Coinbase with this link, you will get $10 in free Bitcoin once you buy or sell $100 worth of Bitcoin using your Coinbase account. (Note: Wirefly also receives $10 worth of BTC)
One thing to keep in mind: it can be inconvenient to have own some coins on one exchange, and some coins on another. One way around this is Coinigy. Coinigy is an amazing trading platform that allows you to link your other exchange accounts so you can view and trade all your coins in one central place. Coinigy's interface is also more advanced and provides more data than most exchanges. Try Coinigy free for 30 days.
The 8 best cryptocurrency exchanges:
Binance
​
Binance is one of the most popular exchanges in the world right now. Binance has a great user interface and a wide variety of altcoins and trading pairs to choose from.
Binance had its Initial Coin Offering (ICO) close recently for BNB token. You can buy BNB tokens on Binance to pay less transaction fees. Binance has its headquarters in China but does not serve the Chinese. However, it is accessible to most participants located in countries around the globe.
Binance has proliferated since the ICO. The exchange is currently ranked in the top 10 best cryptocurrency exchanges in the world. The platform has more than 140 tradable altcoins listed on its website. The exchange management is set to add even more altcoins on its already existing long list.
Binance is a centralized platform with potential for expansion as a business. Binance coin, BNB, was the original currency used on their platform. Day traders, who use this platform regularly, enjoy great discounts. Additionally, if the day traders use BNB coins, the cut is even better.
The platform fee structure is quite distinct. The exchange charges 0.1% of deposited funds as trading fee. Traders depositing funds in BNB coins enjoy a waiver on the charge.
Customers signing up on the Binance platform, register using their email address. The process is very simple and quick. The exchange deposits 1 QTUM to accounts of its first 10,000 users on a first come first serve basis.
Customers can trade cryptocurrency on the Binance platform from anywhere at any time. Trade on Binance is also possible on the move through a mobile application.
The Binance platform has additional features such as multi-lingual support, Binance Angel Program and the Community Coin per Month just to improve user experience on their platform.
Related: Best Cryptocurrency iPhone Apps
Cryptopia
​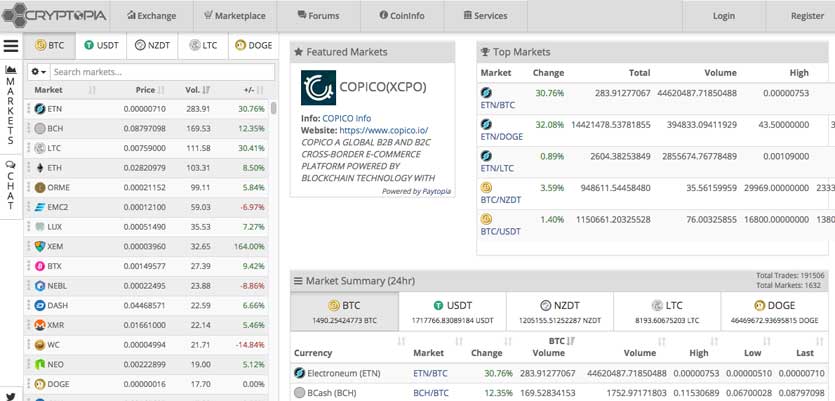 Cryptopia is one of the most popular cryptocurrency exchanges in the world. The platform permits trading of over 400 altcoins to its users
Cryptopia is popularly known for listing many cheap coins on its website. The altcoins are not found in any other exchange. Their model enables many cryptocurrencies to acquire liquidity for themselves.
Cryptopia is also a centralized exchange. Its headquarters is in New Zealand. The Cryptopia exchange allows its users to trade cryptocurrency in almost any part of the globe.
Registration and verification on the website are simple and fast. One needs to log in using their email address. It's also recommended that user employ two-factor authentication.
The exchange's commission fee is not usually fixed. Users should be keen on the fee changes while trading. Good news is that Cryptopia does not have other hidden fees apart from the commission.
Livecoin
​
Livecoin is a newer exchange that is unique because it allows you to buy BTC using fiat currency like US Dollars or Euros or Rubles, but also allows you to trade for altcoins like XRP, ADA, XLM, and more.
Changelly
​
Changelly is a subsidiary of the MinerGate mining pool. The mining pool is famous for its consistently high products in the digital money sector. The Changelly platform enables its users to own various cryptocurrencies easily.
The platform does not require a rigorous registration and verification process. Trading is straightforward and fast. The user just logs in with an email address, and trading starts instantly. Some users use suspicious emails and are still allowed to trade.
The website has a list of more than 35 cryptocurrencies tradable by users. The site also has a list of fiat pairs such as EUR/USD which can be traded by their customers. Changelly is also ranked as one of the best and easiest to use cryptocurrency exchanges in the world.
Changelly utilizes robots to execute orders. Traders connect in real time to other cryptocurrency exchanges. The robots find its traders the best price in the market and fast. A typical cryptocurrency transaction takes between 5 to 30 minutes.
Traders have to part with 0.5% on each trade as commission for Changelly. The commission is reasonable considering the volatility and risk that Changelly bears on behalf of its clients. In addition to the commission, Changelly users also have to pay a miner's fee. The fee is deducted directly from the customers' crypto account balance.
Changelly account users deposit funds through VISA, Master Card or any other payment method supported by the exchange. Customers also require a digital wallet to store earnings from trading.
Bittrex
​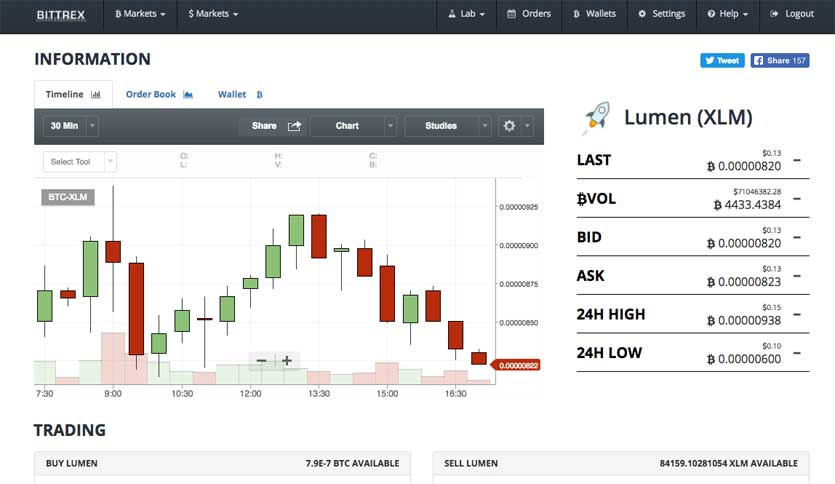 Bittrex has its headquarters in Las Vegas in the United States. The Bittrex exchange is one of the most significant Bitcoin exchanges in the world regarding trading volume. The platform has also listed over 190 cryptocurrencies for its users to trade.
Customer funds on this exchange are top priority. Cryptography on this platform is one of the best among cryptocurrency exchanges making it the most secure. All traders who deposit funds in Bittrex are assured the safety of their money. For this reason, this exchange is preferred by most institutions, fund managers and speculators.
The exchange allows its users set their own price in which they wish to trade. Bittrex benefits by charges them a 0.25% commission fee from each trade for providing the service.
Trading on the Bittrex platform does not require rigorous registration and verification. However, withdrawal of earnings from trading requires customer authentication. Users need to submit a valid identification document as well as a mobile phone number.
Registration and account verification on the Bittrex platform is fast and straightforward.
The Bittrex exchange supports two types of accounts. The first one is known as a basic account. A basic account allows withdrawal of funds up to 3 bitcoins per day. The second account is known as an advanced account. An advanced account enables withdrawal of funds up to 100 bitcoins per day.
Unlike Changelly, Bittrex is cryptocurrency only exchange. The exchange does not allow deposits in terms of fiat currency such as the USD, EUR, and GBP.
The Bittrex website provides customers access to features such as advanced trading tools. The tools include candlestick charts and crosshairs. The website has a clean and intuitive interface to help beginner traders navigate easily. This is the most recommended exchange for beginner cryptocurrency traders.
Related: Best Android Cryptocurrency Apps
ShapeShift
​
Erik Voorhees, one of the earliest Bitcoin investors, established ShapeShift in August 2014. Unlike other exchanges, ShapeShift allows users to deposit funds in cryptocurrency only.
The platform does not have a lengthy registration or verification process. To trade using this platform, users do not even need to log in with their email address.
In order to transact on ShapeShift, one only needs to possess any of the various cryptocurrencies tradable on the exchange. Users also need a digital wallet address to receive earnings from their cryptocurrency trades.
The ShapeShift platform has a list of over 40 cryptocurrencies for its users to trade. In addition, the exchange has a perfect user interface accompanied by trading features.
Poloniex
​
Another significant cryptocurrency exchange globally regarding traded volume is Poloniex. It was launched by Tristan D'Agosta in January 2014.
Poloniex has its headquarters in the United States. The exchange offers over 100 cryptocurrencies for its users to trade.
In 2017, Poloniex had the most substantial trade volume for Ethereum. The platform supports free markets for both Ethereum and Bitcoins.
Poloniex is also a cryptocurrency only exchange. However, an initial deposit of USDT (Tether dollars) would enable a user to start trading. It is also equipped with features that improve user experience. Commission fees depend on whether the user is a market maker or a taker.
Bitfinex
​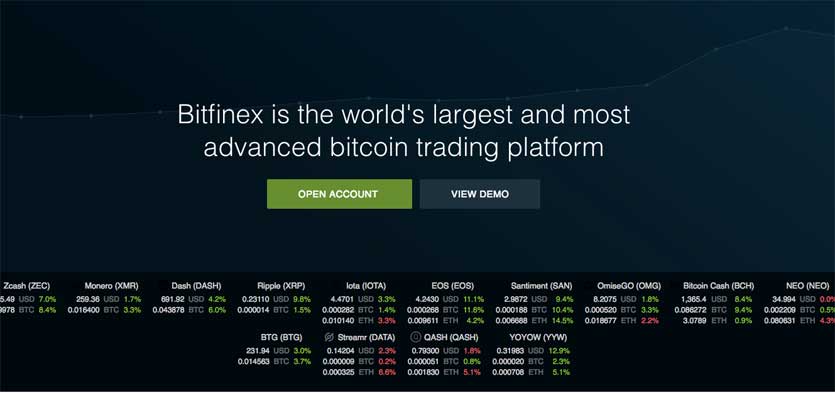 The exchange has also been in operation since 2014. It has its headquarters in Hong Kong, China. The platform has a list of 13 cryptocurrencies which its users can trade. It also allows users to trade using fiat currency. The Bitfinex website has a user interface equipped with trading features.
Registration and verification on Bitfinex are quite rigorous. Moreover, funds withdrawal requires authentication. One needs to send valid identification documents to the Bitfinex team. Typically, it could take a new customer up to 3 weeks to be allowed to trade.
Users are also able to trade cryptocurrency on the Bitfinex platform from anywhere at any time. Trading on Bitfinex is possible on the move through a mobile app for iOS and Android.
The seven listed cryptocurrency exchanges are accessible by users across the globe. Other cryptocurrency exchanges that are as good enough and list unique altcoins include Bitmex, Kucoin, YoBit, and CoinExchange. However, the four do not quite assure the safety of customer's funds. Storing coins is recommended for a short term for trading purposes only. Some of them are prone to large-scale scams, hacks, and fraud. Instead, proceeds from these accounts should be transferred to wallets such as Ledger Nano or Exodus.
Types of Exchanges
Cryptocurrency exchanges vary depending on the participants and the nature of the transaction. It's also worth noting that all the exchanges are fully digital and unregulated.
One type of exchange is the Trading Platforms. They are websites that facilitate trading between buyers and sellers. The websites benefit by charging a commission from the trades.
Direct Trading, is another type of exchange. The platforms facilitate trading between buyers and sellers located in different countries. On a direct trading exchange, each participant is allowed to set prices for their cryptocurrencies as opposed to having a predetermined price.
Another type of exchange is known as Brokers. Cryptocurrency brokers operate just as foreign exchange dealers. The platforms have predetermined exchange rates that facilitate user transactions. Anyone can access the cryptocurrencies.
What to Consider When Signing up for an Exchange
It is vital to consider some factors before making a transaction on a particular exchange. One of these factors is the reputation of the exchange. Getting feedback from review websites and individual user experience is essential. Query websites on cryptocurrency such as BitcoinTalk or Reddit would help to identify a reputable exchange.
Another factor to consider is the fees charged by the exchange. Everyone would like a bargain. All websites have a fee section where potential customers can check out their rates. Before signing up, it's important to understand the fee structure and standards of that exchange.
The payment options available on the exchange are also vital to consider. Only sign up for an exchange where the methods of payment are convenient and secure. An exchange with few payment methods is not advisable.
Some exchanges allow customer anonymity. Choose an exchange that has a feature to verify one's identity. Verification may take up to a couple of days but will protect you from losing your funds to con artists.
Related: How to buy Bitcoin on iPhone
Consider geographical restrictions on the exchanges. It is important to ensure that the exchange one decides to sign up for allows access to customers at your location.
Lastly, consider the exchange rate the website offers. Exchanges have their predetermined exchange rate and may differ by up to 10 percent.
A good exchange is one that has a good reputation, a variety of payment options, identification feature and saves one's money.