Apple iPhone 7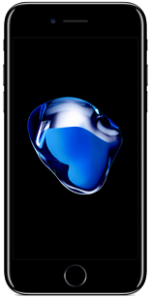 Available Colors:
none
black
silver
gold
rose
Features:
4G Data Capable
Bluetooth
5+ Megapixel Camera
4+ Inch Display
Front-Facing Camera
GPS
HD Video Camera
High Memory Capacity
Mobile Hotspot
Music Player
NFC
Rugged
Speakerphone
Touch Screen
Wi-Fi
FingerPrint ID
Popular Phones:
Apple
BlackBerry
HTC
LG
Motorola
Nokia
Samsung
Description:
The Apple iPhone 7 has a 4.7-inch IPS LCD display. Powering it from within is a 64-bit Quad-Core Apple A10 Fusion processor with 2GB of RAM. There is a choice between 32/128/256 GB onboard storage. The device can take photos with its 12MP rear-facing camera, record 4K videos, or shoot selfies from its 7MP camera in front. The device has a non-removable battery, Apple Pay, Touch ID, and IP67 certification for dust and water resistance. Upon release, the iPhone 7 runs on the latest iOS 10 software and comes with Black, Jet Black, Gold, Rose Gold, and Silver color options. Apple has gotten rid of the 3.5mm headphone jack and replaced it with new lightning headphones. 
Average user reviews
Based on 4 Reviews
Apple iphone 7 in yellow
Posted on: August 5th, 2017 by Preshaz30
Review:
Stunning design. Pixels are amazing. Love that i have lots of room for music AND pictures!! Sound is amazing and the color is beautiful i love yellow.
This review is the subjective opinion of the user and not of Wirefly.com.
Would Not Recommend to a friend.
Monika Mahajan I- phone 6 plus
Posted on: December 30th, 2016 by Monika
Review:
Hi, My experience with apple phones has been very frustrating. I bought an I-phone 6 plus a few months back not realizing how many issues it has. It's been malfunctioning since the day I bought it. To say the least! Terrible battery life, it crashes all the time, volume drops often on, the few apps that I have also crash on and off. Eveytime a problem occurs I have to switch off the phone and reboot it! These phones are way over priced for what they offer. Totally not worth it! Best, Monika Mahajan
This review is the subjective opinion of the user and not of Wirefly.com.
Would Recommend to a friend.
Iphone
Posted on: November 13th, 2016 by Foxcoolman
Review:
Like the phone and I want to give my son one and it is cool his cousin has one and he likes it and he is 15 years old
This review is the subjective opinion of the user and not of Wirefly.com.
Would Recommend to a friend.
amazing
Posted on: September 21st, 2016 by clarckroussel
Review:
i love this phone so much i wish i could have one that's one of my dreams with perfect camera for selfies underwater that's unbelieveble phone
This review is the subjective opinion of the user and not of Wirefly.com.
Phones & Plans
1
Phone
Plan
Minutes
Data
Price

$399

Pure TalkUSA Unlimited Talk, Text 8GB Data No Contract Featured

Network: AT&T
Get up to 20% off your total bill when you add lines
No contracts, no long distance fees, no roaming fees

Unlimited Minutes + Unlimited Texts

8 GB 4G LTE data, then slowed


$399

Pure TalkUSA Unlimited Talk, Text 8GB Data No Contract

Network: AT&T
Get up to 20% off your total bill when you add lines
No contracts, no long distance fees, no roaming fees

Unlimited Minutes + Unlimited Texts

8 GB 4G LTE data, then slowed


$399

Pure TalkUSA Unlimited Talk, Text 15GB Data No Contract

Network: AT&T
Get up to 20% off your total bill when you add lines
No contracts, no long distance fees, no roaming fees

Unlimited Minutes + Unlimited Texts

15 GB 4G LTE data, then slowed


$399

Pure TalkUSA Unlimited Data, Talk, Text No Contract

Network: AT&T
Get up to 20% off your total bill when you add lines
No contracts, no long distance fees, no roaming fees

Unlimited Minutes + Unlimited Texts

Unlimited 4G LTE Data (may be slowed after 22GB of usage per month)
General Info
Manufacturer
Apple
Technology
CDMA/GSM
Data Type
4G
Device Type
Smartphone
Operating System
iOS
Physical Specifications
Height
5.44 Inches
Thickness
0.28 Inches
Weight
4.87 Ounces
Keyboard
Touch Only
Phone Form
Open-Faced
Display Specifications
Display Size
4.70 Inches
Touchscreen Size
4.70 Inches
Audio/Video Specifications
Front Camera
7.00 Megapixels
Rear Camera
12.00 Megapixels
Video
HD
Hearing Aid Compatibility
M3/T4
Battery Specifications
Standby Time
240 Hours
Talk Time
968 Minutes
Battery Type
1960 mAh
Memory Specifications
Internal Memory
32.00 GB
Expandable Memory
0.00 GB
Apple iPhone 7 Review
Let's face it, no review or personal opinion is going to convince anybody to not buy the upcoming iPhone 7. We're pretty sure people are already packing a bag to stand outside the electronics store to snatch up the latest iteration. While they're standing in line, they'll probably speculate on features for the iPhone 23.
Despite the fact minds have already been made, it's still our job to let our readers know what to expect from the latest Apple phone. We are happy to say fans won't be disappointed. The iPhone 7 is an iterative and polished upgrade. While we do bemoan there's no headphone jack - and we'd really like to know what Apple was thinking - and that the new phone has no real standout features, it is indeed a better phone and deserves to shine.
What's Good About the iPhone 7
Well, that depends on what you like about the iPhone. It looks and feels like the 6 versions of the iPhone. It may lack a headphone jack but it comes with some dual speakers (though we didn't get to fully explore its capabilities). This generation has a slightly improved screen and it's water resistant. If you want a smarter, better camera though, you'll have to go with the iPhone 7 Plus.
Personally, we're having a hard time deciding why anyone would need the latest iPhone. But again we don't think that's going to stop anyone from standing in line three days in advance.
Design
Design-wise, Apple must be comfortable with the iPhone 6 because they've applied no new touches to the iPhone 7. The iPhones 4, 5 and 6 had drastic changes to their appearance. The iPhone 7, on the other hand, looks pretty much like the iPhone 6 in screen size and dimensions. This does mean if you have a favorite case, you can take your old iPhone out and plug the new one right into it.
Some have taken the argument that Apple's engineers were either lazy or took the "if it ain't broke" theorem to any change in design. Of course, the iPhone 6 was easily one of the best designs in its market.
The phone will be coming in Black and Jet Black. You won't really see the difference until you're comparing the two phones. We prefer the Jet Black ourselves. If Space Gray was your go-to, it's gone. (Go-to. Gone. Get it?)
Another big change is the iPhone 7 will be its water resistance. Now, we wouldn't go deep sea diving or swimming in the ocean with the phone tucked in our shorts, but if you fell into the pool and got out right away, you're on good ground. You can also finally take your iPhone into the shower and be that much closer to monitoring your notifications.
No Headphone Jack?
There is one other big change that's got everybody talking. That's the manufacturer's decision to remove the headphone jack. The debate includes practical theories like the removal allows for a thinner device and greater battery space, to conspiracies such as Apple's decision to make big bucks off licensing fees manufacturers will have to pay for producing Lightning port headphones. Apple has only officially announced they got rid of the "ancient" port.
The iPhone 7 will come bundled with a Lightning 3.5 mm headphone jack. This will alleviate the aggravation for consumers that resent the idea of giving up their Beats to convert to Lightning cables. There will also be a set of Earpods powered by Lightning.
New Home Button
There was a story going around that Apple planned to do away the home button. Instead, the manufacturer made the button haptic. Instead of clicking all the way in, it will vibrate under your finger. The iPhone 7 will still house a fingerprint scanner, but it will function in a new way.
We do like how the iOS 10 fires up just by picking up the phone, so we're a little disappointed that Apple hasn't done anything similar. This is probably due to their continuous efforts to not be like the competition. Missing a tactile click is going to take some patience, but we doubt it's going to be a deal breaker for iPhone users.
Screen
Apple has lagged behind the industry in screen resolution and doesn't seem to give a crap. Their decision to go with 720p screens in 2016 (!) felt almost Flintstonian. Still, Apple does incorporate LCD tech. Also, factor in the way their phone screens are bonded to glass and their overall color reproduction, and the iPhone still offers a great presentation, almost making up for the lack of sharpness. This is especially obvious if you do a side-by-side with something like the Galaxy S7.
We're still hoping Apple decides to join us the in 21st with 1080p, especially considering its target audience's interest in virtual reality. (This is on Apple's drawing board). But the iPhone 7 isn't about resolution. It's about a standard that's designed to make things on the screen pop. They do. That's not going to stop us from hoping for greater resolution and larger screens.
Apple diehards like to argue they prefer an increased battery life, which the 7 boasts (see below). This is the result of a lesser need to generate higher graphics. But considering the competition and the tech, it doesn't make sense why Apple has chosen to not improve these productions.
Well, guess there should be something to look forward to in the iPhone 23...
Audio
Many imagined with the removal of a headphone jack, Apple would go gangsta on sound, putting music at the top of its lists of things to improve. Well, Apple has taken into account the power of Lightning ports and its ability to carry large amounts of data to headphones. They've boosted their latest phone's capacity to deliver tremendous sound to match Lightning tech.
Apple has dispensed with the single mono output, replacing it with dual speakers. They will be positioned at the top and bottom of the phone to create stereo sound, giving tune listening and film watching a new perspective.
Unfortunately, a full preview of the phone's internal sound quality wasn't available at the time of this review. We do have high expectations that Apple is doing serious work on output quality. Some rumors rumble about Apple adding support for hi-res audio files. This would be sweet considering a Lightning port can produce better audio quality in its data transmission alongside Apple's announcement that there is no better way to get sound from a phone to your ears.
The iPhone 7 will also see another radical feature: proprietary standard wireless functionality. This isn't your father's Bluetooth. It's wireless capability that's similar to current EarPods, apart from infrared sensors which can sense when they are in ears.
After all the hoopla, it would be a great disappointment if Apple chose to not include hi-res audio support, especially after amping up output on the iPhone 7. Otherwise, users will not really be able to take advantage of the power of the Lightning port.
Camera
Apple has not put a lot of effort into the iPhone 7's picture taking. There are minor tweaks, at best. The camera's pump is more prominent now. We found this bothersome because now you can't place the phone down without some wobbling. The snapper will still be 12MP so that you can take good shots without burdening phone engines. Combined with the larger sensor (and the bump), expect better low light pictures, faster shutter speeds and richer day-to-day photography.
The front facing camera has been pumped to 7MP. There are some smart features for light enhancing brought over from the iPhone 6S that enhance the faculty for taking selfies.
Tack on the dual camera installation at the rear of the iPhone 7 and there's not much else to put this model on the picture-taking map.
Battery
The iPhone's battery life has been significantly increased compared to the iPhone 6 and 6S. There's a new A10 Fusion chip which accommodates low power efficiency and a boost to four cores. While we didn't have time to test it, Apple has announced the iPhone 7 has the potential to last at least two hours longer in its "day-to-day use" compared to the phone's previous iteration and an hour longer than the 6S.
Price
Pricing is fairly similar to past generations. You will be able to get models with storage capacities of 32, 128 and 256 gigs. Respectively, models are going to cost $649, $749 and $849. Steep prices but not unusual to the iPhone fan.
Release Date
Preorders will start being taken on September 9th and you'll be able to have one in your anxious paws beginning September 17th.
Conclusion
Apple is certainly happy with what it had, explaining why the iPhone 7 is so similar to the iPhone 6. We already said the iHard fans aren't concerned. So we will say the upgrades will make them happy, especially the water resistance and dual speakers.