Samsung Galaxy A5 (2017)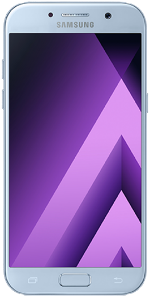 Features:
4G Data Capable
Bluetooth
5+ Megapixel Camera
4+ Inch Display
Expandable memory
FM Radio
Front-Facing Camera
GPS
HD Video Camera
High Memory Capacity
Mobile Hotspot
Music Player
NFC
Rugged
Speakerphone
Touch Screen
Wi-Fi
FingerPrint ID
Popular Phones:
Apple
BlackBerry
HTC
LG
Motorola
Nokia
Samsung
Description:
The Samsung Galaxy A5 (2017) is a 4G LTE smartphone with a 5.2-inch Super AMOLED Always-On display, 1080x1920 resolution and 424ppi index. From within, a 1.9GHz Octa-Core Exynos 7880 processor operates with 3GB of RAM and the Mali-T830 GPU. Onboard storage is 32GB with a microSD card slot for up to 256GB memory expansion. The device has a 16MP rear-facing camera with 1080p video recording quality and a secondary 16MP camera in front. Upon release, the phone runs on Android 6.0.1 Marshmallow OS. There is an included 3,000mAh non-removable battery, fingerprint sensor, NFC, and IP68 certification on board the device. Color options include Black Sky, Gold Sand, Peach Cloud, and Blue Mist. 
Phones & Plans
Phone
Plan
Minutes
Data
Price

Tello Unlimited Talk & Text

No Contract

Featured

Network: T-Mobile
Customize your plan
Calls to Mexico and Canada included

Unlimited

Minutes

+ Unlimited Texts

Spectrum Mobile™ By The Gig¹

No Contract

Featured

Nationwide 5G access included
Free, nationwide access to Spectrum Out-of-Home WiFi access points
Share data with up to 10 lines. Nationwide 5G access included

Unlimited

Minutes

+ Unlimited Texts

1 GB

Pay as you go $14 per GB of data used

TextNow Wireless Talk & Text Only

No Contract

Featured

Network: GSM Network
Unlimited talk, text, data
Calls go through data network when available

Unlimited

Minutes

+ Unlimited Texts

Boost Mobile Shrink It!

No Contract

Price lowered to $40/mo. after 3 months
Then $35/mo. after 6 months

BOOM! Mobile Unlimited Talk & Text 2GB

No Contract

Network: Verizon
Unlimited talk and text
2GB of 4G LTE Data

SpeedTalk Mobile Special $15

No Contract

Network: GSM
Unlimited text messages
Bring your own GSM phone

SpeedTalk Mobile Special $5

No Contract

Network: GSM
250 text messages
Bring your own GSM phone

SpeedTalk Mobile Special $80

No Contract

Network: GSM
Comes with free Motorola cell phone
$80 for the whole year

SpeedTalk Mobile Special $18

No Contract

Network: GSM
500 text messages
Bring your own GSM phone

SpeedTalk Mobile Special $9

No Contract

Network: GSM
250 text messages
Bring your own GSM phone

BOOM! Mobile Unlimited Talk & Text 250MB

No Contract

Network: Verizon
Unlimited talk and text
250MB of 4G LTE Data

Metro by T-Mobile Unlimited Talk & Text 10GB Data

No Contract

Network: T-Mobile
Taxes and fees included in the price you see
Nationwide 4G LTE coverage

Unlimited

Minutes

+ Unlimited Texts

10 GB

4G LTE Data (then unlimited data at 3G speeds)

BOOM! Mobile Unlimited Talk & Text 5GB

No Contract

Network: Verizon
Unlimited talk and text
5GB of 4G LTE data

Metro by T-Mobile Unlimited Talk, Text & Data

No Contract

Network: T-Mobile
Taxes and fees included in the price you see
15GB LTE mobile hotspot

Unlimited

Minutes

+ Unlimited Texts

Unlimited

4G LTE Data (may be slowed after 35GB of usage per month)

ROK Mobile Unlimited Talk Text 5GB GSM

No Contract

Network: GSM
Includes Roadside Assistance & ROK Rewards
4G LTE Coverage and International Talk & Text

Unlimited

Minutes

+ Unlimited Texts

5 GB

4G LTE data, then slowed (no overages)

ROK Mobile Unlimited Talk Text 10GB GSM

No Contract

Network: GSM
Includes Roadside Assistance & ROK Rewards
4G LTE Coverage and International Talk & Text

Unlimited

Minutes

+ Unlimited Texts

10 GB

4G LTE data, then slowed (no overages)

TextNow Wireless Talk & Text Only

No Contract

Network: GSM Network
Unlimited talk, text, data
Calls go through data network when available

Unlimited

Minutes

+ Unlimited Texts

TextNow Wireless 2GB LTE

No Contract

Network: GSM Network
Unlimited talk, text, data
Calls go through data network when available

Unlimited

Minutes

+ Unlimited Texts

2 GB

4G/5G LTE data, then slowed

TextNow Wireless 5GB LTE

No Contract

Network: GSM Network
Unlimited talk, text, data
Calls go through data network when available

Unlimited

Minutes

+ Unlimited Texts

5 GB

4G/5G LTE data, then slowed

TextNow Wireless Unlimited LTE

No Contract

Network: GSM Network
Unlimited talk, text, data
Calls go through data network when available

Unlimited

Minutes

+ Unlimited Texts

Unlimited

4G/5G LTE data (may be slowed after 23GB of usage per month)

FreedomPop Unlimited Talk & Text 500MB

No Contract

Network: Sprint
First month free and free shipping
100% Free Basic Plan

Metro by T-Mobile Unlimited Talk & Text 2GB Data

No Contract

Network: T-Mobile
Taxes and fees included in the price you see
Nationwide 4G LTE coverage

Unlimited

Minutes

+ Unlimited Texts

2 GB

4G LTE Data (then unlimited data at 3G speeds)

Metro by T-Mobile Unlimited Talk, Text & Data

No Contract

Network: T-Mobile
Taxes and fees included in the price you see
5GB LTE mobile hotspot

Unlimited

Minutes

+ Unlimited Texts

Unlimited

4G LTE Data (may be slowed after 35GB of usage per month)

BOOM! Mobile Unlimited Talk & Text 1GB

No Contract

Network: Verizon
Unlimited talk and text
1GB of 4G LTE Data

Google Fi

No Contract

Network: T-Mobile
International data & text (120 countries)
Auto connects to best network

US Mobile Light

No Contract

$5 incl. all taxes & fees*
Premium Data

Tello Unlimited Talk & Text

No Contract

Network: T-Mobile
Customize your plan
Calls to Mexico and Canada included

Unlimited

Minutes

+ Unlimited Texts

Tello Unlimited Talk & Text 500MB

No Contract

Network: T-Mobile
Customize your plan
Hotspot/Tethering included

Unlimited

Minutes

+ Unlimited Texts

500 MB

4G LTE data, then slowed (no overages)

US Mobile 2GB Shared Data

No Contract

Available on 2 Major 5G Nationwide networks in select areas with compatible devices
Add more lines for just $8 per line
Mobile hotspot

Unlimited

Minutes

+ Unlimited Texts

Tello Unlimited Talk & Text 1GB

No Contract

Network: T-Mobile
Customize your plan
Hotspot/Tethering included

Unlimited

Minutes

+ Unlimited Texts

1 GB

4G LTE data, then slowed (no overages)

Tello 100 Mins & Unlimited Texts 2GB

No Contract

Network: T-Mobile
Customize your plan
Hotspot/Tethering included

100

Minutes

+ Unlimited Texts

Tello 300 Mins & Unlimited Texts 2GB

No Contract

Network: T-Mobile
Customize your plan
Hotspot/Tethering included

300

Minutes

+ Unlimited Texts

Tello 500 Mins & Unlimited Texts 2GB

No Contract

Network: T-Mobile
Customize your plan
Hotspot/Tethering included

500

Minutes

+ Unlimited Texts

Tello Unlimited Talk & Text 2GB

No Contract

Network: T-Mobile
Customize your plan
Hotspot/Tethering included

Unlimited

Minutes

+ Unlimited Texts

2 GB

4G LTE/5G data, then slowed (no overages)

Spectrum Mobile™ By The Gig¹

No Contract

Nationwide 5G access included
Free, nationwide access to Spectrum Out-of-Home WiFi access points
Share data with up to 10 lines. Nationwide 5G access included

Unlimited

Minutes

+ Unlimited Texts

1 GB

Pay as you go $14 per GB of data used

Tello 100 Mins & Unlimited Texts 5GB

No Contract

Network: T-Mobile
Customize your plan
Hotspot/Tethering included

100

Minutes

+ Unlimited Texts

Tello 300 Mins & Unlimited Texts 5GB

No Contract

Network: T-Mobile
Customize your plan
Hotspot/Tethering included

300

Minutes

+ Unlimited Texts

Tello 500 Mins & Unlimited Texts 5GB

No Contract

Network: T-Mobile
Customize your plan
Hotspot/Tethering included

500

Minutes

+ Unlimited Texts

US Mobile 6GB Shared Data

No Contract

Available on 2 Major 5G Nationwide networks in select areas with compatible devices
Add more lines for just $8 per line
Mobile hotspot

Unlimited

Minutes

+ Unlimited Texts

Tello Unlimited Talk & Text 5GB

No Contract

Network: T-Mobile
Customize your plan
Hotspot/Tethering included

Unlimited

Minutes

+ Unlimited Texts

5 GB

4G LTE data, then slowed (no overages)

Consumer Cellular Unlimited Talk & Text 1GB

No Contract

Network: T-Mobile and AT&T
Unlimited Talk & Text
Hotspot/Tethering included

Unlimited

Minutes

+ Unlimited Texts

1 GB

5G LTE data, then slowed (no overages)

Google Fi

No Contract

Network: T-Mobile
International data & text (120 countries)
Auto connects to best network

Tello 100 Mins & Unlimited Texts 10GB

No Contract

Network: T-Mobile
Customize your plan
Hotspot/Tethering included

100

Minutes

+ Unlimited Texts

Tello 300 Mins & Unlimited Texts 10GB

No Contract

Network: T-Mobile
Customize your plan
Hotspot/Tethering included

300

Minutes

+ Unlimited Texts

Tello 500 Mins & Unlimited Texts 10GB

No Contract

Network: T-Mobile
Customize your plan
Hotspot/Tethering included

500

Minutes

+ Unlimited Texts

Tello Unlimited Talk & Text 10GB

No Contract

Network: T-Mobile
Customize your plan
Hotspot/Tethering included

Unlimited

Minutes

+ Unlimited Texts

10 GB

4G LTE data, then slowed (no overages)

US Mobile 12GB Shared Data

No Contract

Available on 2 Major 5G Nationwide networks in select areas with compatible devices
Add more lines for just $8 per line
Mobile hotspot

Unlimited

Minutes

+ Unlimited Texts

US Mobile Unlimited Starter

No Contract

Available on 2 Major 5G Nationwide networks in select areas with compatible devices
Free SIM when you purchase a new phone
Can bring your own phone

Unlimited

Minutes

+ Unlimited Texts

Cricket Wireless Talk & Text

No Contract

Network: AT&T
3G Coverage
Price shown includes taxes and fees already

Unlimited

Minutes

+ Unlimited Texts

Consumer Cellular Unlimited Talk & Text 5GB

No Contract

Network: T-Mobile and AT&T
Unlimited Talk & Text
Hotspot/Tethering included

Unlimited

Minutes

+ Unlimited Texts

5 GB

5G LTE data, then slowed (no overages)

Tello Unlimited Data, Talk & Text

No Contract

Network: T-Mobile
Customize your plan
Hotspot/Tethering included

Unlimited

Minutes

+ Unlimited Texts

Unlimited

4G LTE Data (will be slowed after 25GB of usage per month)

Atlantis Telecom Unlimited

No Contract

Network: T-Mobile
Free streaming on Netflix, HBO, Hulu and YouTube
Unlimited Data

2 GB

4G LTE data, then slowed (no overages)

Spectrum Mobile™ Unlimited Data¹

No Contract

Nationwide 5G access included
Free, nationwide access to Spectrum Out-of-Home WiFi access points
No added taxes or hidden fees

Unlimited

Minutes

+ Unlimited Texts

Unlimited

Unlimited (Reduced speeds after 20 GB of usage per line)

$

29

.99 /mo

+ $10 Upfront

Google Fi

No Contract

Network: T-Mobile
International data & text (120 countries)
Auto connects to best network

Cricket Wireless 2GB High-Speed Data

No Contract

Network: AT&T
No contract Nationwide 4G LTE Coverage
Price shown includes taxes and fees already

Unlimited

Minutes

+ Unlimited Texts

2 GB

Data speeds capped at 8Mbps

Consumer Cellular Unlimited Talk & Text 10GB

No Contract

Network: T-Mobile and AT&T
Unlimited Talk & Text
Hotspot/Tethering included

Unlimited

Minutes

+ Unlimited Texts

10 GB

5G LTE data, then slowed (no overages)

Straight Talk Unlimited

No Contract

Unlimited talk, text, and data
3GB, 25GB or 60GB of high speed data per month
Can bring your own phone (GSM or CDMA)

3 GB

4G LTE data, then slowed (no overages)

2 GB

4G LTE data, then slowed

Google Fi

No Contract

Network: T-Mobile
International data & text (120 countries)
Auto connects to best network

US Mobile Unlimited Essentials

No Contract

Available on 2 Major 5G Nationwide networks in select areas with compatible devices
5GB of Hotspot Data
Free SIM when you purchase a new phone

Unlimited

Minutes

+ Unlimited Texts

Cricket Wireless 5GB High-Speed Data

No Contract

Network: AT&T
No contract Nationwide 4G LTE Coverage
Price shown includes taxes and fees already

Unlimited

Minutes

+ Unlimited Texts

5 GB

Data speeds capped at 8Mbps

4 GB

4G LTE data, then slowed

Consumer Cellular Unlimited Talk & Text 15GB

No Contract

Network: T-Mobile and AT&T
Unlimited Talk & Text
Hotspot/Tethering included

Unlimited

Minutes

+ Unlimited Texts

15 GB

5G LTE data, then slowed (no overages)

Straight Talk Unlimited

No Contract

Unlimited talk, text, and data
3GB, 25GB or 60GB of high speed data per month
Can bring your own phone (GSM or CDMA)

25 GB

4G LTE data, then slowed (no overages)

Consumer Cellular Unlimited Talk & Text 20GB

No Contract

Network: T-Mobile and AT&T
Unlimited Talk & Text
Hotspot/Tethering included

Unlimited

Minutes

+ Unlimited Texts

20 GB

5G LTE data, then slowed (no overages)

Atlantis Telecom Unlimited

No Contract

Network: T-Mobile
Free streaming on Netflix, HBO, Hulu and YouTube
Unlimited Data

6 GB

4G LTE data, then slowed (no overages)

Boost Mobile Unlimited Gigs

No Contract

Unlimited

4G LTE Data (may be slowed after 35GB of usage per month)

Consumer Cellular Unlimited Data, Talk & Text

No Contract

Network: T-Mobile and AT&T
Unlimited Talk & Text
Hotspot/Tethering included

Unlimited

Minutes

+ Unlimited Texts

50 GB

5G LTE data, then slowed (no overages)

AT&T Mobile Share Plus 3GB

No Contract

No overages
Unlimited texting to any country
Unused data rolls over to the next month

Google Fi

No Contract

Network: T-Mobile
International data & text (120 countries)
Auto connects to best network

T-Mobile No Credit Check

No Contract

Unlimited Talk & Text, 10GB of 4G LTE data
Unlimited data at 3G speeds after your 4G LTE limit
Mobile hotspot included. No credit check required.

Unlimited

Minutes

+ Unlimited Texts

10 GB

4G LTE Data (then unlimited data at 3G speeds)

US Mobile Unlimited Premium

No Contract

Available on 2 Major 5G Nationwide networks in select areas with compatible devices
50GB of Hotspot Data
Free SIM when you purchase a new phone

Unlimited

Minutes

+ Unlimited Texts

8 GB

4G LTE data, then slowed

US Mobile 30GB Shared Data

No Contract

Available on 2 Major 5G Nationwide networks in select areas with compatible devices
Add more lines for just $8 per line
Mobile hotspot

Unlimited

Minutes

+ Unlimited Texts

T-Mobile Magenta First Responder

No Contract

Unlimited calling, & unlimited data & texting (in 200+ countries)
3GB of 4G LTE mobile hotspot. Plan is for first responders only
Up to 5GB of 4G LTE coverage in Mexico & Canada

Unlimited

Minutes

+ Unlimited Texts

Unlimited

4G/5G Data (may be slowed after 100GB of usage per month)

Cricket Wireless Unlimited Cricket Core

No Contract

Network: AT&T
No contract Nationwide 4G LTE Coverage
Price shown includes taxes and fees already

Unlimited

Minutes

+ Unlimited Texts

Unlimited

Data speeds capped at 3Mbps

Straight Talk Unlimited

No Contract

Unlimited talk, text, and data
3GB, 25GB or 60GB of high speed data per month
Can bring your own phone (GSM or CDMA)

60 GB

4G LTE data, then slowed (no overages)

T-Mobile Magenta Military

No Contract

Unlimited calling, & unlimited data & texting (in 200+ countries)
3GB of 4G LTE mobile hotspot. Plan is for military members only
Up to 5GB of 4G LTE coverage in Mexico & Canada

Unlimited

Minutes

+ Unlimited Texts

Unlimited

4G/5G Data (may be slowed after 100GB of usage per month)

Atlantis Telecom Unlimited

No Contract

Network: T-Mobile
Free streaming on Netflix, HBO, Hulu and YouTube
Unlimited Data

Unlimited

4G LTE Data (may be slowed after 50GB of usage per month)

10 GB

4G LTE data, then slowed

T-Mobile Essentials

No Contract

Unlimited international text messages (200+ countries)
Unlimited mobile hotspot at 3G speeds
Unlimited 2G data in Mexico and Canada

Unlimited

Minutes

+ Unlimited Texts

Unlimited

4G LTE Data (may be slowed after 50GB of usage per month)

Cricket Wireless Unlimited Cricket More

No Contract

Network: AT&T
Video streamed at 480p quality
Price shown includes taxes and fees already

Unlimited

Minutes

+ Unlimited Texts

Unlimited

4G LTE Data (may be slowed during network congestion)

AT&T Mobile Share Plus 9GB

No Contract

No overages
Unlimited texting to any country
Unused data rolls over to the next month

Straight Talk Unlimited Plus International

No Contract

Unlimited talk & text, 25GB high speed data
Unlimited Mobile to Mobile to Mexico, China, India, & Canada
Unlimited calls to over 1000 International landline destinations

Unlimited

Minutes

Unlimited to Mexico, China, India & Canada

25 GB

4G LTE data, then slowed (no overages)

Boost Mobile Unlimited Plus

No Contract

Unlimited

4G LTE Data (may be slowed after 35GB of usage per month)

AT&T Unlimited Starter

No Contract

No overage fees (1.5Mbps video streaming)
Unlimited international texting

Unlimited

Minutes

+ Unlimited Texts

Unlimited

4G LTE Data (may be slowed during network congestion)

$

65

/mo

+ $24.95 Upfront

T-Mobile Magenta MAX Unlimited 55+ Years

No Contract

Unlimited calling, & unlimited data & texting (in 200+ countries)
40GB of 4G LTE mobile hotspot
Exclusively for people aged 55 or older

Unlimited

Minutes

+ Unlimited Texts

Verizon myPlan Unlimited Welcome

No Contract

Verizon 5G Network in select areas with compatible devices
Unlimited data
Mexico and Canada included

Unlimited

Minutes

+ Unlimited Texts

Unlimited

4G/5G LTE Data (may be slowed during network congestion)

T-Mobile Magenta

No Contract

Unlimited calling, & unlimited data & texting (in 200+ countries)
Unlimited mobile hotspot at 3G speeds
4G LTE coverage in Mexico & Canada

Unlimited

Minutes

+ Unlimited Texts

Unlimited

4G LTE Data (may be slowed after 100GB of usage per month)

Google Fi

No Contract

Network: T-Mobile
International data & text (120 countries)
Auto connects to best network

AT&T Unlimited Extra

No Contract

No overage fees (1.5Mbps video streaming)
Unlimited international texting
15GB mobile hotspot

Unlimited

Minutes

+ Unlimited Texts

Unlimited

4G LTE Data (may be slowed after 50GB of usage per month)

$

75

/mo

+ $24.95 Upfront

Verizon myPlan Unlimited Plus

No Contract

30GB mobile hotspot included
Verizon 5G Network in select areas with compatible devices
To/from Mexico & Canada included

Unlimited

Minutes

+ Unlimited Texts

Unlimited

4G/5G LTE Data (may be slowed after 25GB of usage per month)

AT&T Unlimited Elite

No Contract

Includes 30GB mobile hotspot at 4G LTE speeds
HD video streaming
Unlimited calling to Canada & Mexico

Unlimited

Minutes

+ Unlimited Texts

Unlimited

4G LTE Data (may be slowed after 22GB of usage per month)

T-Mobile Magenta MAX

No Contract

Unlimited calling, & unlimited data & texting (in 200+ countries)
40GB of high-speed mobile hotspot
4G LTE coverage in Mexico & Canada

Unlimited

Minutes

+ Unlimited Texts

Google Fi

No Contract

Network: T-Mobile
International data & text (120 countries)
Auto connects to best network

Google Fi

No Contract

Network: T-Mobile
International data & text (120 countries)
Auto connects to best network

Google Fi

No Contract

Network: T-Mobile
International data & text (120 countries)
Auto connects to best network

Google Fi

No Contract

Network: T-Mobile
International data & text (120 countries)
Auto connects to best network

Google Fi

No Contract

Network: T-Mobile
International data & text (120 countries)
Auto connects to best network

Google Fi

No Contract

Network: T-Mobile
International data & text (120 countries)
Auto connects to best network

Google Fi

No Contract

Network: T-Mobile
International data & text (120 countries)
Auto connects to best network

Google Fi

No Contract

Network: T-Mobile
International data & text (120 countries)
Auto connects to best network
General Info
Manufacturer
Samsung
Technology
GSM
Data Type
4G
Device Type
Smartphone
Operating System
Android
Physical Specifications
Height
5.75 Inches
Thickness
0.31 Inches
Weight
0.00 Ounces
Keyboard
Touch Only
Phone Form
Open-Faced
Display Specifications
Display Size
5.20 Inches
Touchscreen Size
5.20 Inches
Audio/Video Specifications
Front Camera
16.00 Megapixels
Rear Camera
16.00 Megapixels
Video
HD
Hearing Aid Compatibility
None
Battery Specifications
Standby Time
0 Hours
Talk Time
1,209 Minutes
Battery Type
3000 mAh
Memory Specifications
Internal Memory
32.00 GB
Expandable Memory
256.00 GB