HTC One (M8) For Windows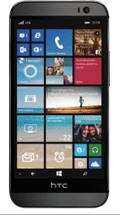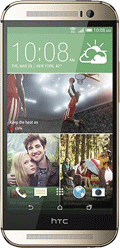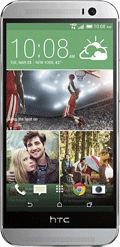 Features:
4G Data Capable
Bluetooth
5+ Megapixel Camera
4+ Inch Display
FM Radio
Front-Facing Camera
GPS
HD Video Camera
High Memory Capacity
Mobile Hotspot
Music Player
NFC
Speakerphone
Touch Screen
Wi-Fi
Popular Phones:
Apple
BlackBerry
HTC
LG
Motorola
Nokia
Samsung
Description:
This version of the HTC One (M8) runs on the Windows Phone OS. It boasts a 5-inch 1080 x 1920 resolution LCD display and comes with a 5-megapixel front camera and an UltraPixel 4-megapixel rear camera (with secondary depth camera). This Windows-run HTC smartphone also features 32 GB internal storage, a metal frame body, Bluetooth, and HTC BoomSound stereo speakers, among many others.
Phones & Plans
General Info
Manufacturer
HTC
Technology
CDMA
Data Type
4G
Device Type
Smartphone
Operating System
Windows
Physical Specifications
Height
5.76 Inches
Thickness
0.37 Inches
Weight
5.64 Ounces
Keyboard
Touch Only
Phone Form
Open-Faced
Display Specifications
Display Size
5.00 Inches
Touchscreen Size
5.00 Inches
Audio/Video Specifications
Front Camera
5.00 Megapixels
Rear Camera
4.00 Megapixels
Video
HD
Hearing Aid Compatibility
M4/T3
Battery Specifications
Standby Time
387 Hours
Talk Time
1,440 Minutes
Battery Type
2600 mAh
Memory Specifications
Internal Memory
32.00 GB
Expandable Memory
0.00 GB
HTC One (M8) for Windows Review
The HTC One (M8) Windows smartphone was just made available for consumers in the United States. The HTC One (M8) has innovative features that make the phone one of the best new smartphones on the market.
The new phone is considered a twin sister to the Android HTC One (M8), but the difference between the two phones in in the operating system, which is the most recent Windows 8.1 platform for the HTC One (M8). The other difference between the two phones, as far as hardware, is the HTC One (M8) for Windows will have 32GB of storage, unlike the 16GB and 32GB option for the HTC Android.
Other than the noted differences, the two phones are exactly the same. From the dimensions, display, and the two UltraPixel cameras on the back of the phones make them almost identical.
Design
The innovative design includes a wraparound frame, thin edges, and a rounded back.
Audio HTC BoomSound
The HTC One (M8) for Windows phone has a front facing speakers, which come with auto-balancing software. This phone gives users clarity when playing games and listening to music or videos.
The Personal Assistant, Cortana
​Cortana is a virtual personal assistant that is able to give users reminders, recognize frequently used phone numbers, and can even organize schedules.
Live Tiles Home Screen
The live tiles home screen allows users to pin their favorite apps, news sources, and contacts to their home screen. The live tiles feature allows users easy access to whatever they decide to pin on their home screen.
Camera
The HTC One (M8) for Windows includes a dual camera, which provides high-quality photographs. The camera allows users to change the focus to other objects after a picture is taken, and enables users to blur backgrounds for special picture effects. The Ufocus feature is great for allowing users to create picture effects, which allows users to create professional looking photos.
The display menu on the phone offers users 6 options for taking photos. The setting option allows user to set a specific camera mode, white balance, and exposure. The camera also comes with a feature that enables users to crop and set the quality of their videos. Other modes that the camera features are fast blur shot mode, slow motion video, 360 degree panoramas, and multi-exposure action shot.
Selfie Mode
The smartphone allows users to take selfies with ease. The selfie mode feature provides users with a 3 second countdown, which ensures users are ready for the photo. With the large amount of selfies that are taken these days, this feature can be useful for many users.
Display
The HTC One Windows smartphone has a Super LCD 3 display panel, and the size allows users to easily view videos because there is no color deterioration. However, a bigger display panel means there will be fewer pixels per inch, which means the picture may not be as clear.
Motion Launch
The new phone comes with a feature called Motion Launch, which is enabled through HTC sensors. This unique feature allows users to answer phone calls with the display off, and the feature allows users to perform motion gestures or swipe the phone screen to give commands.
If a user picks up the phone in portrait orientation and taps twice, then the display screen will turn on.
If a user swipes from left to right, then the screen will turn on and open BlindFeed.
If a user swipes from right to left, then the main screen will open.
If a user swipes from the bottom up, then the phone will display what was on the screen before the phone went into sleep mode.
If a user swipes from the top down, then voice dialing will become enabled.
If a user picks up the phone in landscape orientation and presses the volume button, then the camera app will open.
If a user picks up the phone while it is ringing, then the call will automatically be taken when users place the phone to their ear.
This feature will also display suggestions and tips periodically after the phone is initially set up by the user.
New App Software
The new HTC One (M8) for Windows has software that makes its core apps, such as BlinkFeed, Gallery, HTC TV, and Zoe, available to be updated quickly and more often. The phone also combines smart television and movie suggestions with a universal remote featured on the home screen, which enables users to control televisions and TV boxes in their homes. There is also an app called Sense TV, which is designed to integrate live sports and sports scores through the phone, so sports fans are able to stay up-to-date with current sporting events.
Conclusion
The HTC One (M8) for Windows is an innovative phone with many features. Users will be able to enjoy many features that are included with the phone, such as Cortana, which can ultimately make users lives easier. The features and durability of the HTC One (M8) for Windows make it a smartphone that is worth the investment.