HTC One (E8)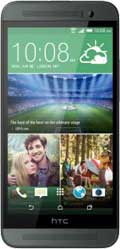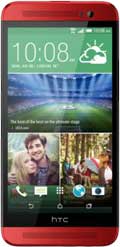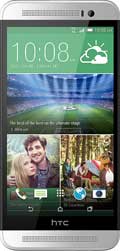 Features:
4G Data Capable
Bluetooth
5+ Megapixel Camera
4+ Inch Display
Expandable memory
Front-Facing Camera
GPS
HD Video Camera
High Memory Capacity
Mobile Hotspot
Music Player
NFC
Speakerphone
Touch Screen
Wi-Fi
Popular Phones:
Apple
BlackBerry
HTC
LG
Motorola
Nokia
Samsung
Description:
The HTC One (E8) is similar to the HTC One, but comes with a more affordable price tag and build. The HTC One (E8) features a plastic body, 13-megapixel rear-facing camera, 5-megapixel front-facing camera, Snapdragon 801 processor, 5" diagonal HD display, BoomSound speakers, NFC mobile payment technology, LTE, and expandable memory up to 128 GB. The HTC One (E8) runs the Android 4.4 operating system with HTC Sense 6.
Phones & Plans
General Info
Manufacturer
HTC
Technology
CDMA
Data Type
4G
Device Type
Smartphone
Operating System
Android
Physical Specifications
Height
5.76 Inches
Thickness
0.39 Inches
Weight
5.11 Ounces
Keyboard
Touch Only
Phone Form
Open-Faced
Display Specifications
Display Size
5.00 Inches
Touchscreen Size
5.00 Inches
Audio/Video Specifications
Front Camera
5.00 Megapixels
Rear Camera
13.00 Megapixels
Video
HD
Hearing Aid Compatibility
M4/T4
Battery Specifications
Standby Time
504 Hours
Talk Time
1,608 Minutes
Battery Type
2600 mAh
Memory Specifications
Internal Memory
16.00 GB
Expandable Memory
128.00 GB
HTC One (E8) Review
Up until early 2013, HTC hadn't yet made a bold name for itself in the way of high-quality, flagship smartphone models. Its line of phones consisted of anything from the HTC Vivid to the HTC Titan; all solid models, but nothing noteworthy. In 2012, HTC had produced the HTC One X, but it fell short in sales and visibility arguably due to poor marketing efforts.
However, in February of 2013, HTC unveiled the HTC One M7 that took the Android user market by storm, and later the HTC One (M8). It elevated the company to heights it had never approached before, and it definitely raised the bar on smartphone build quality and design standards.
As of June of 2014, HTC has launched a newer model of the HTC One: the E8. The E8 is the newest variant in the HTC One series, fashioning a polycarbonate shell, as well as a more attractive price tag. In terms of specs, the E8 is almost identical to the M8, and it sports the classic "HTC One" look without the use of more expensive build materials.
HTC One E8 Build and Hardware
One of the E8's strongest features is that it is a combination of all the best design features used in HTC smartphones over the past two years. The metal backing found on prior HTC One phones has been scrapped for a polycarbonate replacement, one of HTC's many efforts to deliver a more affordable price point. The plastic used does a very good job of mimicking its previous metal counterpart.
The E8 also comes in glossy red and white versions, and as anyone would assume, they are a bit more flashy in design. However, these types of designs are more likely to smudge and scratch.
What's happening on the inside will likely be of more interest; essentially everything found within the HTC One M8 can be found within the E8 as well. The E8 is packed to the brim with more than enough Snapdragon 801 processing power at either 2.5 or 2.3Ghz (depending heavily on where you purchase), 16GB storage, 2GB RAM, microSD capability, and a powerful 2600mAh battery.
HTC has also ditched the Ultrapixel main camera, as well as the Duo Camera, for a single 13 MP camera equipped with a single LED flash. This same module can be found in both the HTC Desire 816 and the One Mini 2. The front-facing camera will retain its common spec, which is the 5 MP module. It's also worth it to note that the wide-angle lens equipped on the M8 has been scrapped.
HTC enthusiasts will find that the shape of the E8 is much more angular in comparison to the M8. Ports are all found in the same places as with the M8, but the power button has been moved to the middle rather than left on the side. Near the volume controls, the microSD slot will be found. The nanoSIM sits opposite to these features.
The E8 doesn't fall short on the audiovisual end of the spectrum, either. It sports a whopping 1080p crystal clear display, sandwiched by the "BoomSound" speakers above and below it. The E8's display is very comparable to the predecessors in its series; it's one of the most vivid and impressive screens to be featured on a smartphone.
Because of the polycarbonate shell, it makes for easier handling and a lighter model.
HTC One E8 Features and Software
The E8 runs on 4.4.2 KitKat, and it has ultimately been the smoothest UI that Android has deployed yet. The E8 was designed with an even balance of simplicity, visual flair, and performance in mind. It's clean and modern in style, and it comes packed with a number of themes to help users personalize their own devices.
Many of the latest Sense features are included with the E8, including the BlinkFeed scrolling feed pane, camera and gallery features, and simplistic GUI. Keep in mind that because the E8 lacks a second rear camera, the option for adding depth-sensitive effects to photos is stripped. An infrared blaster is also missing from the phone, but it's nothing to get upset over. IR sensors on smartphones are really only useful at this time for pairing devices with televisions. At this point, it's a feature that can be gone without.
Included with the E8 is "Motion Launch," a relatively new feature that allows users to wake their phone and complete a number of other tasks with the use of taps and swipes.
Think of the E8's software design and features as a carbon copy of HTC Sense 6.
HTC One E8 Camera Review
The camera build and design is what sets the E8 the furthest apart from its M8 counterpart. The 4 MP Ultrapixel camera paired with a depth-sensing camera for added effect has been replaced with a single 13 MP camera. The front-facing 5 MP camera produces selfies at anywhere from similar to identical quality as the M8's front module. The lack of the wide-angle lens will make it harder to gather more people into one shot, however.
It was hoped for that HTC's move from the Ultrapixel camera to a 13 MP camera on the E8 would better align it against the competition, but this sadly hasn't been the case.
HTC has produced other phones that make use of the standard 13 MP camera, and the images rendered from it can be described as decent. Images often render in dull quality, and this is even after saturation has been manipulated. The exposure metering and dynamic range are nothing to brag about. Low light environments easily make for noisy and grainy photos.
Video recording is similar in quality; however, its redeeming quality is its 1080p resolution at 30 frames per second. Video recording enthusiasts will be the first to announce that fine detail is difficult to capture. Outdoors shots tend to be either over- or under-exposed, as well as washed out.
The camera makes up for what it lacks by its benefit from the processor. Shutter lag has been significantly reduced, and Zoe mode operates more smoothly. The camera software includes dual capture and a 360 panorama mode for those that like to get creative.
HTC One E8 Battery Life
The HTC One E8 features the same battery that can be found in the M8. Because this model features the same battery and much of the same hardware/software as the M8, it's no real surprise that the battery life is essentially the same in both models.
During a week of testing, it was found that the battery lasted throughout an entire day with power left to spare at the end. Heavier use with frequent switching between WiFi and LTE, screen brightness turned up, and frequent usage left the battery drained after 16 hours.
Compared to what can be seen with other newer models of phone, it is not capable of wireless charging, and it will be virtually impossible to change out the battery. However, this isn't something that was to be expected with an HTC phone.
There are many features included in the software that help users preserve their battery power. The most notable feature is its Extreme Power Saver Mode. However, the battery is efficient enough to keep the need at bay for this feature being on for the most part.
Conclusion
For those looking for their next upgrade from either an HTC One M7 or M8, they will find that the E8 is less premium in quality. However, after using the model for days on end, it won't take long to realize that it's easier to hold, lighter, and sports a material that isn't so slippery or difficult to place. Those that have enjoyed the M8 experience will also take to the E8 easily - essentially because they are the same phones.
Overall, the phone is fast, designed with beauty in mind, and comes packed with features that users can actually benefit from. There's no denying that the HTC One E8 is yet another solid installment in the line of HTC One models.