Motorola edge+ (2022)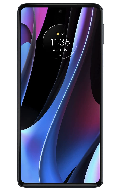 Features:
4G Data Capable
Bluetooth
5+ Megapixel Camera
4+ Inch Display
FM Radio
Front-Facing Camera
Global Roaming
GPS
HD Video Camera
High Memory Capacity
Mobile Hotspot
Music Player
NFC
Rugged
Speakerphone
Touch Screen
Wi-Fi
FingerPrint ID
5G Data Capable
Popular Phones:
Apple
BlackBerry
HTC
LG
Motorola
Nokia
Samsung
Description:
The Motorola edge+ (2022) is a 5G smartphone that comes with a 6.8-inch P-OLED display. It runs on an Octa-Core Qualcomm Snapdragon 8 Gen 1 with 8GB of RAM and 128GB onboard storage. There is a 50-megapixel main, a 50-megapixel ultra-wide sensor, and a 2-megapixel depth camera. A 60-megapixel camera is available in front for selfies and video calls. The Motorola edge+ (2022) comes with a 4800mAh battery with Qi wireless charging and Motorola TurboPower, NFC, and a fingerprint sensor. It runs on  Android 12 OS upon release. You can choose from two color options: Cosmos Blue and Stardust White.
Phones & Plans
Phone
Plan
Minutes
Data
Price

Click
'Get Plan'
to view price

US Mobile 150 Mins Talk Custom

No Contract

Featured

Networks: T-Mobile and Verizon
Build your own plan
Can bring your own phone




Boost Mobile Shrink It!

No Contract

Price lowered to $40/mo. after 3 months
Then $35/mo. after 6 months


Click
'Get Plan'
to view price

US Mobile 75 Mins Talk Custom

No Contract

Networks: T-Mobile and Verizon
Build your own plan
Can bring your own phone


Click
'Get Plan'
to view price

US Mobile 150 Mins Talk Custom

No Contract

Networks: T-Mobile and Verizon
Build your own plan
Can bring your own phone


Click
'Get Plan'
to view price

US Mobile 75 Mins Talk Custom

No Contract

Networks: T-Mobile and Verizon
Build your own plan
Can bring your own phone

$

5

.50 /mo

+ $3.99 Upfront


Click
'Get Plan'
to view price

US Mobile Starter Plan

No Contract

Networks: T-Mobile and Verizon
Can bring your own phone

2500

Minutes

+ 2500 Texts


Click
'Get Plan'
to view price

US Mobile 300 Mins Talk Custom

No Contract

Networks: T-Mobile and Verizon
Build your own plan
Can bring your own phone


Click
'Get Plan'
to view price

US Mobile 75 Mins Talk Custom

No Contract

Networks: T-Mobile and Verizon
Build your own plan
Can bring your own phone


Click
'Get Plan'
to view price

US Mobile 150 Mins Talk Custom

No Contract

Networks: T-Mobile and Verizon
Build your own plan
Can bring your own phone

$

6

.50 /mo

+ $3.99 Upfront


Click
'Get Plan'
to view price

US Mobile 300 Mins Talk Custom

No Contract

Networks: T-Mobile and Verizon
Build your own plan
Can bring your own phone

$

7

.50 /mo

+ $3.99 Upfront


Click
'Get Plan'
to view price

US Mobile 150 Mins Talk Custom

No Contract

Networks: T-Mobile and Verizon
Build your own plan
Can bring your own phone


Click
'Get Plan'
to view price

US Mobile 500 Mins Talk Custom

No Contract

Networks: T-Mobile and Verizon
Build your own plan
Can bring your own phone


Click
'Get Plan'
to view price

US Mobile 700 Mins Talk Custom

No Contract

Networks: T-Mobile and Verizon
Build your own plan
Can bring your own phone


Click
'Get Plan'
to view price

US Mobile 300 Mins Talk Custom

No Contract

Networks: T-Mobile and Verizon
Build your own plan
Can bring your own phone


Click
'Get Plan'
to view price

US Mobile 500 Mins Talk Custom

No Contract

Networks: T-Mobile and Verizon
Build your own plan
Can bring your own phone

$

8

.50 /mo

+ $3.99 Upfront


Click
'Get Plan'
to view price

US Mobile Unlimited Talk & Text

No Contract

Networks: T-Mobile and Verizon
Can bring your own phone
Entertainment options (up to 3 subscriptions)

Unlimited

Minutes

+ Unlimited Texts


Click
'Get Plan'
to view price

US Mobile 700 Mins Talk Custom

No Contract

Networks: T-Mobile and Verizon
Build your own plan
Can bring your own phone

$

9

.50 /mo

+ $3.99 Upfront


Click
'Get Plan'
to view price

US Mobile 500 Mins Talk Custom

No Contract

Networks: T-Mobile and Verizon
Build your own plan
Can bring your own phone


Click
'Get Plan'
to view price

US Mobile 75 Mins Talk Custom

No Contract

Networks: T-Mobile and Verizon
Build your own plan
Can bring your own phone


Click
'Get Plan'
to view price

US Mobile 700 Mins Talk Custom

No Contract

Networks: T-Mobile and Verizon
Build your own plan
Can bring your own phone


Click
'Get Plan'
to view price

US Mobile 150 Mins Talk Custom

No Contract

Networks: T-Mobile and Verizon
Build your own plan
Can bring your own phone


Click
'Get Plan'
to view price

US Mobile 300 Mins Talk Custom

No Contract

Networks: T-Mobile and Verizon
Build your own plan
Can bring your own phone


Click
'Get Plan'
to view price

US Mobile Unlimited Talk, Text 2GB Data

No Contract

Networks: T-Mobile and Verizon
Full speed data
Can bring your own phone

Unlimited

Minutes

+ Unlimited Texts


Click
'Get Plan'
to view price

US Mobile 500 Mins Talk Custom

No Contract

Networks: T-Mobile and Verizon
Build your own plan
Can bring your own phone


Click
'Get Plan'
to view price

US Mobile 700 Mins Talk Custom

No Contract

Networks: T-Mobile and Verizon
Build your own plan
Can bring your own phone


Click
'Get Plan'
to view price

US Mobile 75 Mins Talk Custom

No Contract

Networks: T-Mobile and Verizon
Build your own plan
Can bring your own phone


Click
'Get Plan'
to view price

US Mobile 150 Mins Talk Custom

No Contract

Networks: T-Mobile and Verizon
Build your own plan
Can bring your own phone


Click
'Get Plan'
to view price

US Mobile Unlimited Talk, Text 5GB Data

No Contract

Networks: T-Mobile and Verizon
Full speed data
Can bring your own phone

Unlimited

Minutes

+ Unlimited Texts


Click
'Get Plan'
to view price

US Mobile Unlimited Talk, Text 15GB Data

No Contract

Networks: T-Mobile and Verizon
Full speed data
Can bring your own phone

Unlimited

Minutes

+ Unlimited Texts


Click
'Get Plan'
to view price

US Mobile 300 Mins Talk Custom

No Contract

Networks: T-Mobile and Verizon
Build your own plan
Can bring your own phone


Click
'Get Plan'
to view price

US Mobile 500 Mins Talk Custom

No Contract

Networks: T-Mobile and Verizon
Build your own plan
Can bring your own phone


Click
'Get Plan'
to view price

US Mobile 700 Mins Talk Custom

No Contract

Networks: T-Mobile and Verizon
Build your own plan
Can bring your own phone


Click
'Get Plan'
to view price

US Mobile 75 Mins Talk Custom

No Contract

Networks: T-Mobile and Verizon
Build your own plan
Can bring your own phone


Click
'Get Plan'
to view price

US Mobile 150 Mins Talk Custom

No Contract

Networks: T-Mobile and Verizon
Build your own plan
Can bring your own phone


Click
'Get Plan'
to view price

US Mobile 300 Mins Talk Custom

No Contract

Networks: T-Mobile and Verizon
Build your own plan
Can bring your own phone


Click
'Get Plan'
to view price

US Mobile 500 Mins Talk Custom

No Contract

Networks: T-Mobile and Verizon
Build your own plan
Can bring your own phone


Click
'Get Plan'
to view price

US Mobile 700 Mins Talk Custom

No Contract

Networks: T-Mobile and Verizon
Build your own plan
Can bring your own phone


Click
'Get Plan'
to view price

US Mobile 75 Mins Talk Custom

No Contract

Networks: T-Mobile and Verizon
Build your own plan
Can bring your own phone


Click
'Get Plan'
to view price

US Mobile Unlimited Talk, Text 25GB Data

No Contract

Networks: T-Mobile and Verizon
Full speed data
Can bring your own phone

Unlimited

Minutes

+ Unlimited Texts


Click
'Get Plan'
to view price

US Mobile 150 Mins Talk Custom

No Contract

Networks: T-Mobile and Verizon
Build your own plan
Can bring your own phone


Click
'Get Plan'
to view price

US Mobile 300 Mins Talk Custom

No Contract

Networks: T-Mobile and Verizon
Build your own plan
Can bring your own phone


Click
'Get Plan'
to view price

US Mobile 500 Mins Talk Custom

No Contract

Networks: T-Mobile and Verizon
Build your own plan
Can bring your own phone


Click
'Get Plan'
to view price

US Mobile 700 Mins Talk Custom

No Contract

Networks: T-Mobile and Verizon
Build your own plan
Can bring your own phone


Click
'Get Plan'
to view price

US Mobile 75 Mins Talk Custom

No Contract

Networks: T-Mobile and Verizon
Build your own plan
Can bring your own phone


Click
'Get Plan'
to view price

US Mobile 150 Mins Talk Custom

No Contract

Networks: T-Mobile and Verizon
Build your own plan
Can bring your own phone


Click
'Get Plan'
to view price

US Mobile 300 Mins Talk Custom

No Contract

Networks: T-Mobile and Verizon
Build your own plan
Can bring your own phone


Click
'Get Plan'
to view price

US Mobile 500 Mins Talk Custom

No Contract

Networks: T-Mobile and Verizon
Build your own plan
Can bring your own phone


Click
'Get Plan'
to view price

US Mobile 700 Mins Talk Custom

No Contract

Networks: T-Mobile and Verizon
Build your own plan
Can bring your own phone


Click
'Get Plan'
to view price

US Mobile Unlimited Basic

No Contract

Networks: T-Mobile and Verizon
5GB of Hotspot Data
Can bring your own phone

Unlimited

Minutes

+ Unlimited Texts


Click
'Get Plan'
to view price

US Mobile Unlimited Premium

No Contract

Networks: T-Mobile and Verizon
50GB of Hotspot Data
Can bring your own phone

Unlimited

Minutes

+ Unlimited Texts




Boost Mobile Unlimited Gigs

No Contract

Unlimited

4G LTE Data (may be slowed after 35GB of usage per month)




Boost Mobile Unlimited Plus

No Contract

Unlimited

4G LTE Data (may be slowed after 35GB of usage per month)
General Info
Manufacturer
Motorola
Technology
GSM
Data Type
4G
Device Type
Smartphone
Operating System
Android
Physical Specifications
Height
6.42 Inches
Thickness
0.35 Inches
Weight
6.91 Ounces
Keyboard
Touch Only
Phone Form
Open-Faced
Display Specifications
Display Size
6.70 Inches
Touchscreen Size
6.70 Inches
Audio/Video Specifications
Front Camera
60.00 Megapixels
Rear Camera
50.00 Megapixels
Video
HD
Hearing Aid Compatibility
None
Battery Specifications
Standby Time
0 Hours
Talk Time
0 Minutes
Battery Type
4800 mAh
Memory Specifications
Internal Memory
128.00 GB
Expandable Memory
0.00 GB